I just found
this article
(from July 2008) about New York requiring food establishments to post the calories for any food they sell in the same size and font as the price!
This is BRILLIANT. Wouldn't you love to be able to see this when you go out someplace?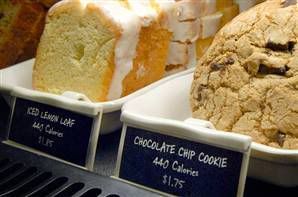 I know I would. Man, I want this in Milwaukee.
Tell me what ya think...
would you like this where you live?
The thing that most amazed me about this article was not the law. It was the part about the woman who ate at TGI Fridays and was all pissed off that they'd done it. (By the way, the fines start at $2000 if these places don't comply.) She saw the menu and that many of the meals were over 2000 calories each, and one of the desserts was 1500 calories. She said, "I wish they wouldn't have done this," and then asked if they had any of the old menus without the calorie count on them! Talk about denial. Seriously? You'd rather eat foods and have no idea how bad they are for you? Or, you know how bad they are for you, but you somehow think you'll feel better just blindly eating these foods without the facts in front of you? That's the most ridiculous thing I've ever heard. We should be HAPPY with this kind of information. Sheesh!
So... Anybody reading live in New York? How do you like it? Do you find it helps you stay on track with healthy eating?
You really don't know what is in the food you get at some places. A muffin could cost you 630 calories. When getting your morning coffee, I bet that would keep you from buying it.
~J