This was DELICIOUS! I have a deep love for fish. Seriously.
Lemon Fish
1 pound fish fillets (snapper, sole) -- **I used Cod, my favorite**
4-6 lemon slices
1/4 cup fat-free chicken broth or white wine (I used chicken broth)
1/2 teaspoon fat-free butter-flavored sprinkles (omitted for my recipe)
1/8 teaspoon ground black pepper
1 tablespoon dried parsley
Arrange fish in a 9-inch by 13-inch baking pan that has been sprayed with nonstick cooking spray. Use a microwave-safe dish if cooking in the microwave. Top with remaining ingredients.
Follow directions below for microwave or conventional oven. (I used the conventional)
MICROWAVE OVEN: Cover with plastic wrap, venting one corner. Cook on high for 5-8 minutes (depending on thickness), rotating 1/4 turn halfway through cooking. Fish is done when it flakes easily with a fork.
CONVENTIONAL OVEN: Preheat oven to 450 degrees. Bake fish, uncovered, for 10 minutes per inch of thickness, or until fish flakes easily with a fork.
I served my fish on a beautiful bed of fresh spinach leaves: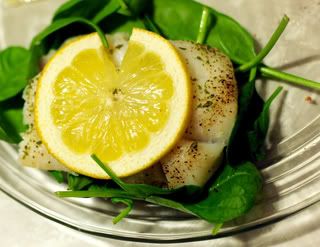 Nutritional Information:
116 calories
2g fat
1g carb
0g dietary fiber
0g sugars
23g protein
I served this with a green salad: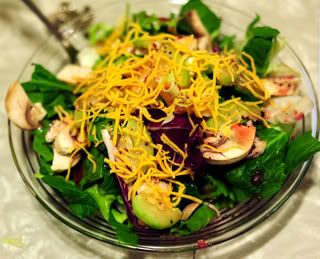 Green Giant Broccoli and Cheese Sauce (60 calories)
Pillsbury Whole Wheat Rolls (90 calories each)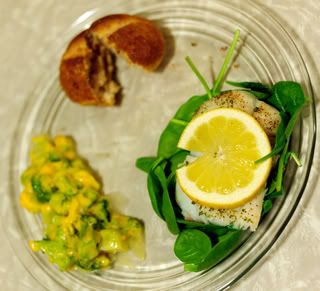 And check out how awesome my leftovers look!!!
~J :)