Day two of blogging recipes!
Pork Chop Suey
1 lb boneless pork tenderloin
2 cups sliced celery
1 cup sliced onion (omitted for my recipe)
1 cup fat-free beef broth
1 tbsp lite soy sauce
1/4 tsp salt (optional)
2 1/2 tbsp cornstarch
1/4 cup water
1 tbsp molasses
1/4 tsp ground ginger
1 can (16 oz) bean sprouts, drained and rinsed or 1 lb fresh (I used fresh)
Cut pork into 1 inch strips, about 1/4 inch thick. Brown pork in a large skillet that has been sprayed with nonstick cooing spray. (I used extra virgin olive oil.) Add the next five ingredients, cover, and simmer for 5-10 minutes.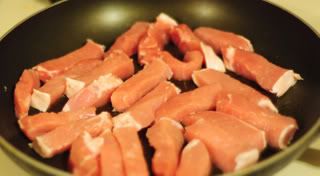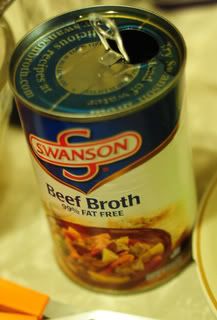 Meanwhile, in a small bowl, mix cornstarch, water, molasses, and ginger. Stir into hot mixture and bring to a boil, stirring constantly until thickened.
Add bean sprouts and heat thoroughly. Serve over noodles or quick-cooking brown rice. (I used brown rice.)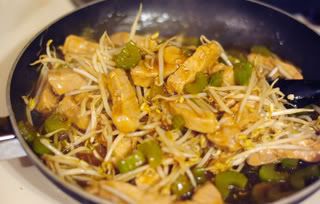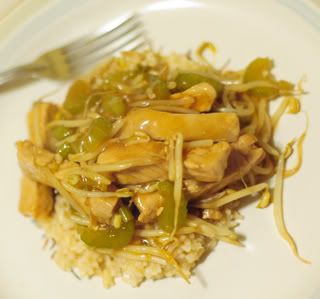 Makes 5 Cups (4 servings)
Nutritional Info:
219 calories
5g fat
2g saturated fat
16g carbohydrates
2g dietary fiber
7g sugar
28g protein
I served this with a fabulous, easy salad. :)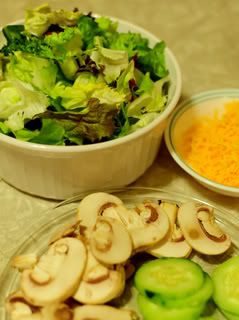 Add to that, I finally got back to the gym today and it was awesome. I felt really good for going even though I only did 30 minutes on the elliptical... I burned 300 calories! Did a few lunges at home, and plan to resume my weight training tomorrow. :)