Okay, so I was going to make lasagna for dinner tonight, but apparently I relied too heavily on the "shopping list" from the book, because it didn't include lasagna noodles, even though the recipe calls for them. I'm sure I should have been smart enough to remember "duh, I need noodles" but I was working from the list.
So, I'm making the ungodly Corn Bread Taco Bake for dinner. This is a recipe I got from Dan's sister
Christina
; ever since she made this for dinner one night when we were over, Dan's been begging me to make it. (How she stays soooo beautiful and thin while eating this kind of food, I'll never know and will be eternally jealous.) :)~
It's totally unhealthy. I calculated 514 calories per serving, and that's with substituting ground turkey for the ground beef and organic corn for regular.
So, here's the recipe and photos.

Corn Bread Taco Bake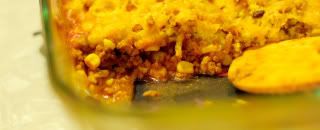 Prep 20 minutes / Bake 25 minutes
1 1/2 lbs ground beef (I used ground lean turkey)
1 can whole kernel corn, drained (I used organic canned corn)
1 can (8 oz) tomato sauce
1/2 cup water
1/2 cup chopped green pepper (omitted for my recipe)
1 envelope taco seasoning
1 package (8.5 oz) corn bread/muffin mix
1 can (2.8 oz) french-fried onions, divided
1/3 cup shredded cheddar cheese
Preheat oven to 400.
In a large skillet, cook beef over medium heat until no longer pink. Stir in the corn, tomato sauce, water, green peppers and taco seasoning. Mix well. Spoon into a greased 2-quart baking dish.
Prepare corn bread mix according to package directions for corn bread. Stir in half of the onions. Spread over beef mixture.
Bake, uncovered, at 400 for 20 minutes. Sprinkle with cheese and remaining onions. Bake 3-5 minutes longer or until cheese is melted and a toothpick inserted into corn bread layer comes out clean. (Corn bread will be golden brown.)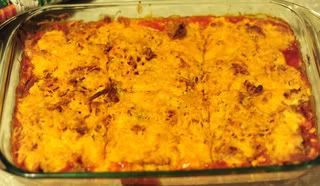 Makes 6 servings.
Each serving = 514 calories (when prepared my way) :)~
My serving (These are the small sandwich sized plates, by the way):
Dan's serving (plus another plate):
Because this is a pretty darn unhealthy dish, I had a nice salad:
Here are the portions compared: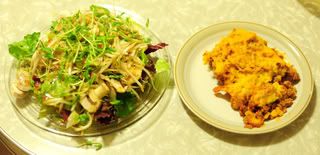 Did I mention Dan was REALLY happy to have this? He's asked for it for his birthday. :)~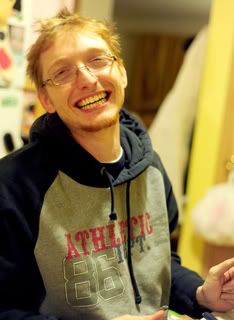 ~Jenn