Deeeelicious! If you like juicy chicken and mushrooms, this one is for you.
Chicken Breasts in Mushroom Sauce
2 cups sliced mushrooms
1/4 cup chopped green onion (omitted for mine)
2 tbsp unbleached all-purpose flour
1/4 cup water
1/2 cup plain fat-free yogurt
2 tbs dry sherry or water (I used water)
1 tsp instant chicken bouillon (low sodium!)
1/4 tsp salt (omitted for mine)
1/8 tsp ground black pepper
1 lb skinless, boneless chicken breasts
1/4 tsp paprika
Preheat oven to 350 degrees. Saute mushrooms and onion in a skillet that has been sprayed with a nonstick cooking spray.
Meanwhile, mix flour and water in a covered container and shake well to prevent lumps. Add to mushrooms along with next five ingredients. Cook, stirring constantly until thickened.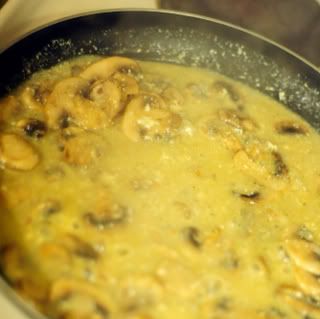 Arrange chicken in a 9x9 baking dish that has been sprayed with nonstick cooking spray. Pour mushroom sauce over chicken and sprinkle with paprika. Bake for 30 minutes or until chicken is no longer pink.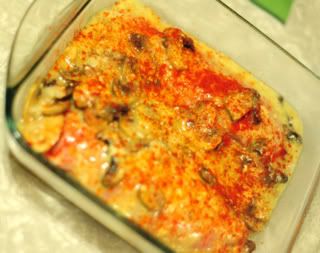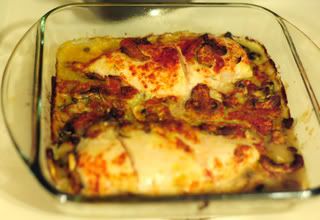 Voila!
Nutrition Analysis:
170 calories
2g fat
152mg sodium
8g carbohydrate
1g dietary fiber
3g sugar
29g protein
I served mine with a nice salad:
And notice the portion size - this is a side plate. :)
Here are my leftovers: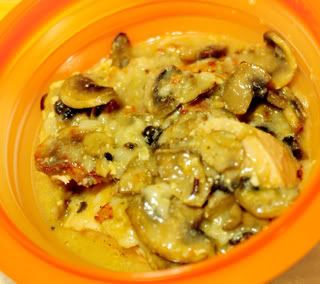 My trainer gave me a great idea to scramble eggs with spinach and put them in a container for breakfasts through the week. I took her advice and it looks great. I did 2 whole eggs and 6 egg whites. :)
Also I got these really cool tupperware containers (tupperware.com) - they expand, so you can have a container to fit whatever kind of leftovers you've got! :)~ Plus, they're in bright, fun colors.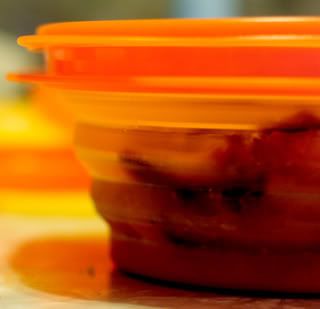 Also, this is what I had for lunch:
2 slices of flax fiber bread, turkey, lettuce, light mayo, mustard, reduced fat Swiss cheese and some fat free cottage cheese with paprika on top. Yum!
~J