Also known as "Meat Patties," which sounds disgusting... these hamburgers rocked our faces off.
I served these on Natural Ovens Better Wheat Buns:
Serving Size: 1 Bun
Calories 170
Total Fat 2.5g
Saturated Fat 0g
Cholesterol 0mg
Sodium 140mg
Total Carbohydrate 30g
Dietary Fiber 3g
Sugars 5g
Protein 7g
Meat Patties:
1/2 cup oatmeal or oat bran
1/2 cup fat-free milk
1/4 cup egg substitute (I forgot this, but they came out fine)
1/2 tbsp dried parsley
1 tsp ground mustard (omitted for mine)
1 tsp dried or 1 tbsp fresh minced onion
1/2 tsp salt (omitted for mine)
1/4 tsp chopped garlic
1/4 tsp ground black pepper
1 lb extra-lean ground beef or ground turkey (7% fat)
Mix the first 9 ingredients. Add ground meat and mix well. Shape into four patties. Cook in the microwave, in the conventional oven, or on the grill.
Conventional Oven:
Preheat to 425 degrees. Arrange patties on a baking pan that has been sprayed with nonstick cooking spray. Bake for 20 minutes.
Microwave Oven: Arrange meat patties in a circle, on a microwave-safe dish, leaving the center empty. Cover with wax paper and cook on high for 7-8 minutes, rotating 1/4 turn halfway through cooking time.
Grill: Cook over hot coals, turning once, until done. *I used my George Forman. Because I forgot the egg, it was super juicy and didn't stick together 100%, so I just sprayed the grill with nonstick cooking spray and it was fine. They were delicious and I saved a bit of calories too! :)

Nutritional Info:
(makes 4 servings)
222 calories
9g fat
3g saturated fat
71mg cholesterol
127mg sodium
9g carbohydrate
1g dietary fiber
2g sugar
26g protein
With these kinds of nutrition numbers... you just can't beat a delicious, juicy, healthy burger with the kind of staying power that hungry guys (and girls) need! :)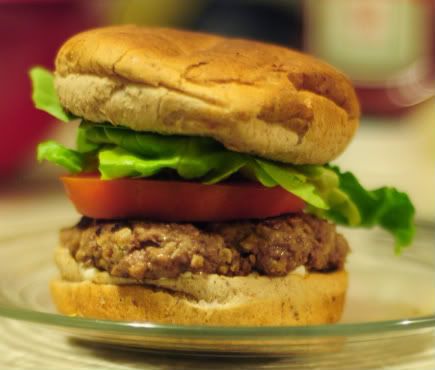 Oh, and don't forget a nice salad! :)