So, I got my Wii FINALLY hooked up. It's way cool.
Though I did have a bit of a bummer when I was doing the body test on the Wii Fit and it said (in a little kids voice) ---- "That's Obese!" when calculating my BMI.
Dans was normal, of course (around 22.)
Here are our wii people. (Sorry about the crappy TV lines - I don't know how to take photos without that showing up.)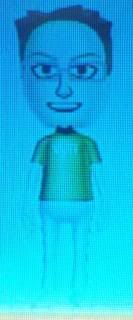 Also I was going to post a recipe tonight for the spicy seafood and grapes - but it was NOT good. It tastes interesting at first, but Dan and I both felt like we had gooey rubber mush in our stomachs after eating. You know how sometimes you'll eat something and the first few bites, it's like "Hmm, this is pretty good" and then once you're 1/2 way through, it's more like "Ughhhhhhhhhhhhhhhh..."? That's how it was.
Though I DID make this brown rice, and it's SO easy I won't buy anything else anymore. For two cups... 1.5 minutes in the microwave. YUM!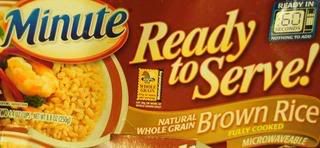 So, in lieu of the weirdness that is spicy seafood and grapes, I'll post a few things I had yesterday:
Tuna and Chicken Salad sandwich:
*this is not a recipe from the book - it's just what I made.
1 can drained albacore tuna
1/2 cup cooked and chilled chicken (shredded)
2 tbsp mild green chiles
3 tsp whipped cream cheese
2 tbsp light kraft mayo
1/4 cup reduced fat mozzarella cheese
4 sliced Roma tomatoes
Mix ingredients together. Toast 2 pieces of whole grain bread. Put the sandwich together with some mixed greens. Chow down! :)~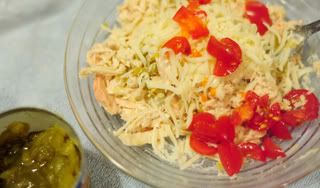 Mixed fresh fruit and organic vanilla yogurt: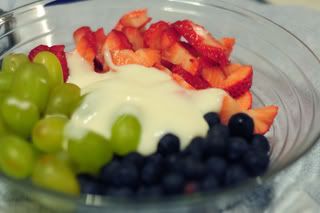 ~J