Alrighty!
This one was not one of our favorites... the sausage was GOOD! But, the veggies were (not) so good. Just a matter of personal taste.
If you like cooked cabbage and bell pepper, you might really like this, so I'll post it. :)
Barbecued Smoked Sausage and Cabbage Casserole
4 cups chopped cabbage
1 cup chopped onion (we omitted this)
1 cup sliced celery
1 cup sliced bell pepper, red or green (I did orange! I'm a rebel.)
1 package (16 oz) low-fat turkey smoked sausage, cut into slices
1/3 cup bbq sauce
Preheat oven to 350 degrees.
In a large bowl, combine all ingredients and mix well.
Spray a 2.5 quart covered casserole dish with nonstick cooking spray. Add all ingredients. Cover and bake for 30-40 minutes.
Totally easy!
We served this with some whole-grain bread.
Nutritional Breakdown:
203 calories
8g fat
1013mg sodium (whoa!)
17g carbohydrate
3g dietary fiber
12g sugars
15g protein
If you look for a lower sugar bbq sauce you can reduce the sugar. Also, I'd recommend looking for a natural bbq sauce... one that does NOT include high fructose corn syrup. I let Dan pick the bbq sauce, and didn't think about that until I was making it. Ugh!
I had 1/2 a head of cabbage left so I made a quick and healthy coleslaw.
Jenn's Healthy Coleslaw
1/2 small head of cabbage, shredded (roughly 5-6 cups)
1 carrot, shredded
1 cup fat free plain yogurt
3 tbsp apple vinegar (or vinegar of preference)
2 tsp ground flax seed (I put it in just about everything now.)
1 tbsp artificial sweetener of choice
black pepper to taste
Mix all together in a bowl and chill! :)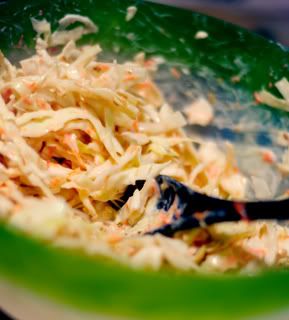 Also a few things I ate today and yesterday:
Whole wheat bun with Morningstar veggie burger: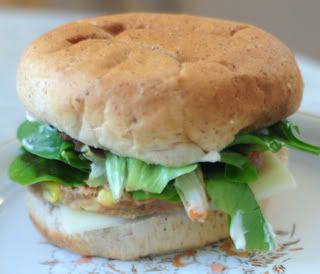 Another batch of
Lemon Fish
(Dan asked for it!) :)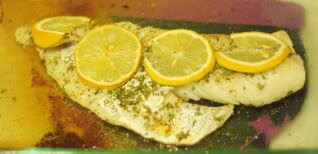 And my new power breakfast... Jenn's Egg, Spinach, Turkey and Swiss Sandwich!
J