Okay, so today marks the first day of my blogging recipes that I take from the book Jesse got me for Christmas. This book is great, and gives you low calorie, healthy recipes and a shopping list for 20 weeks.
The book is "Quick & Healthy Recipes and Ideas" by Brenda J. Ponichtera, registered dietitian.
Garlic Basil Tomatoes
2 medium tomatoes
1 tsp dried basil
1 tsp chopped garlic
1/2 tsp salt (optional)
1/8 tsp ground black pepper
Mix ingredients and let set at room temperature for at least 1 hour. Serve plain or on a lettuce leaf.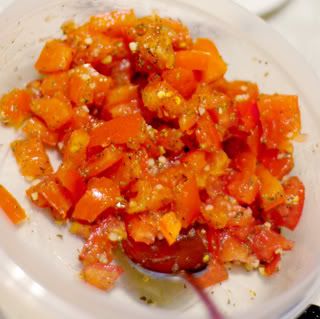 Makes 4 servings (2 cups)
Each serving:
18 calories
4g carbohydrate
1g dietary fiber
2g sugar
1g protein

Chicken Pockets
2 cups cooked shredded chicken
1 package (8 oz) fat free cream cheese
4 green onions, chopped (omitted for my recipe)
1 can (7 oz) buttermilk biscuits (10 biscuits per can)
Sauce:
1/2 can (5 oz) low fat, condensed cream of chicken soup
1/2 cup water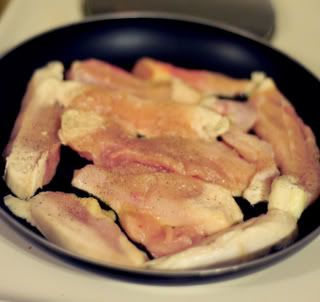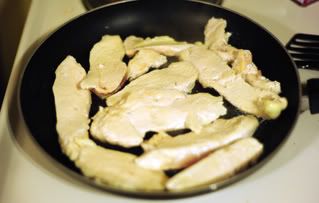 Preheat oven to 375 degrees. Mix the first three ingredients in a medium bowl.
Lay out half the biscuits on a baking sheet that has been sprayed with nonstick cooking spray. Lightly flatten the biscuits with the palm of your hand. Spoon part of the chicken mixture on five biscuits, reserving some filling for the sauce. Flatten remaining biscuits and place over biscuits topped with filling. Seal edges by pinching. Bake for 20 minutes or until biscuits are golden brown.
Meanwhile, prepare sauce by mixing the soup, water, and reserved filling. Heat in a saucepan on the stove until thoroughly heated or cook in the microwave for 2 1/2 minutes on high, stirring halfway through cooking time. Serve over each pocket.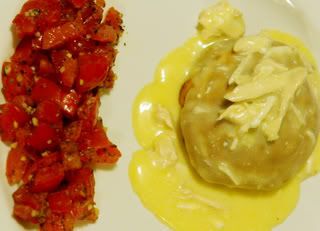 Makes 5 servings (1 pocket plus sauce)
249 calories
4g fat
1g saturated fat
26g carbohydrate
2g dietary fiber
5g sugar
27g protein