This one is a great source of fiber and protein.
Chicken and Broccoli Casserole
1 pound skinless, boneless chicken breasts, cut into 8 strips
*I use farm raised chicken - I haven't figured out local growers yet, but if you choose free-range, it's better for you, and better for the chicken.
4 cups bite-size broccoli pieces
1 can (13 oz) mushroom pieces and stems, drained and rinsed
1 can (10.75 oz) low-fat, condensed cream of mushroom soup
1/4 can water
1/2 tsp dried rosemary (I used herbs de province)
1/4 tsp paprika
1/8 tsp ground black pepper
Preheat oven to 350 degrees. Arrange chicken in an 8x8 baking pan that has been sprayed with nonstick cooking spray. Top with broccoli and mushrooms.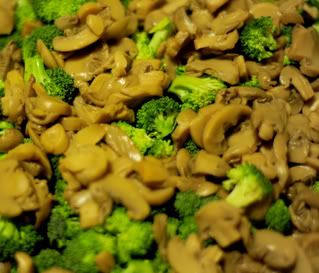 Mix soup, water and rosemary. Spread over chicken and vegetables. Sprinkle with paprika and pepper.
Bake, uncovered, for 50-60 minutes or until chicken is no longer pink and broccoli is tender. Let set 10 minutes before serving.
Makes 5 servings.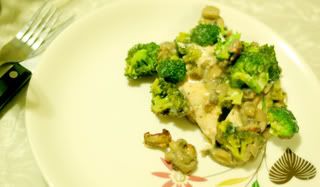 Nutrient Analysis:
168 calories
3g fat
1g saturated fat
351mg sodium
10g carbohydrate
4g dietary fiber
2g sugar
25g protein
Served with a salad: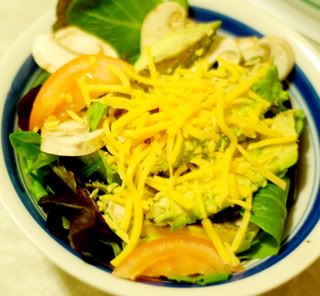 And we have leftovers! :)