So... it's really, really easy to pig out at a Superbowl Sunday party. I've done it so many times... pizza, wings, Popeye's chicken meals or KFC, chips and dip, hoagies, and sweets.
Needless to say, I was happy to come across two healthy recipes for dips on
Scale Junkie's website.
I made these, and even though my grocery store didn't have any real ripe avocados, it was really good.
Black Bean-Tomatillo Dip
Makes 6 servings
2 (15 ½ ounce) cans black beans, rinsed, drained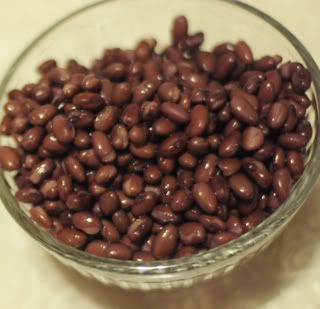 1 (12 ounce) can tomatillos, drained, chopped
1 (4 ounce) can chopped green chiles, drained
3 scallions, chopped
½ cup chopped fresh cilantro
3 tablespoons lime juice
2 tablespoons water
2 teaspoons chili powder
2 teaspoons ground cumin
½ teaspoon salt
½ teaspoon black pepper
Combine beans and tomatillos in a food processor (I used my magic bullet) and process to a chunky puree. Transfer mixture to a large bowl and add remaining ingredients. Stir until well combined.
Nutrition per 1/3 cup: 102 calories, 1 gram fat, no cholesterol, 390 grams sodium, 17 grams carbohydrates, 7 grams fiber, 6 grams protein.
Source: Weight Watchers Momentum Cookbook.
Chunky Guacamole
Serves: 6
2 Hass avocados, halved, pitted, and peeled
1 small tomato, seeded and chopped
¼ cup fresh cilantro
1 ½ tablespoons lime or lemon juice
¼ cup finely chopped onion
½ teaspoon salt
¼ teaspoon black pepper
4 drops hot pepper sauce
Coarsely mash the avocados in a medium bowl. Add the remaining ingredients and stir until combined. Serve at once or press a piece of plastic wrap directly onto the surface to prevent the guacamole from browning. Refrigerate up to 3 hours.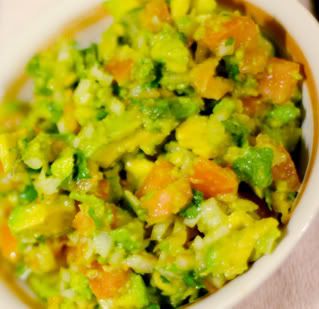 Per serving (2 tablespoons): 47 calories, 4 g Fat (but its a healthy good for you fat), 2 g Fiber
Source: Weight Watchers Momentum Cookbook.
I'm not a "fan" of Weight Watchers as far as the diet plan is concerned (for me, personally) but they do have some great resources, and I'm glad I found these recipes. :)
Alrighty! So, I also want to say that Jennifer Hudson did a great job singing the National Anthem, but I swear I saw her breathing during long notes. Did she lip synch? Just a thought I had.
I also don't get the Bruce Springsteen thing, but I'm glad so many people seemed to enjoy the show. Me? I'm typing this while it's on because I just don't get into Bruce Springsteen. Meh.
Oh, one more thing. GO CARDINALS! :)
~Jenn