She brought us carrot cake and said, "It's on me."
And this wasn't any old carrot cake. This was the MONSTROUS, amazing carrot cake from Rock Bottom Brewery. The carrot cake that has got to pack at least 2000 calories in one serving.
I didn't have my camera on me but found this photo with a quick Google search. It's accurate.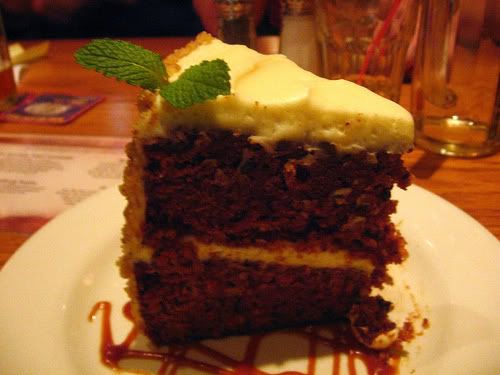 I had a really lovely salad with roasted chicken, walnuts, Gorgonzola, grapes, celery, arugula, cranberries and balsamic vinaigrette. I did a quick calculation of my caloric intake for the day and I had to have been around 900 already. At least.
So, I am probably around 1900 calories for the day after my 1/2 of that carrot cake.
Pretty hilarious considering I just did a post about how I don't eat cookies anymore. Holy crap. But I will tell you two things:
1. I savored every single bite. To the point that Dan was saying, "Would you stop the theatrics???" I said, "NO!! It's SOOOoooo GOOD!"
2. I feel so jittery after eating that sugar (after not having sugar like that since roughly December 1st) -- I think I might explode.
I left her an $11 tip. Though she sabotaged, me, it wasn't intentional... and who gets free carrot cake at a restaurant anyway? We didn't complain about anything, we were really nice and the service was great.
If you're in the Milwaukee area, go eat at the Rock Bottom downtown and ask for Courtney. Don't expect free carrot cake, and don't say I said she'd give you some. What you can expect is great food and even better service. :)
~J