213.6 (down from 214.2) - not that big a loss.
But, over period week, I'm not too upset over that. At least it's some kind of loss. And considering I only worked out twice last week... that's not bad.
Here's my weight chart from December 1st. This means I've lost just over 10 lbs in two months. Really, that's under what I want to be accomplishing. Particularly with my eating, I should be losing more.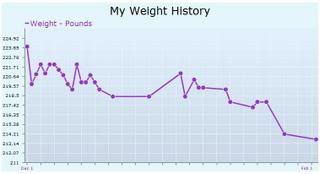 I need to work out more!! I tend to do the gym twice and then Wii every other day. Wii is good but I'm not paying $80/month for the frickin Wii.
Have I mentioned how cold it is here? It's hard to leave a nice, comfy, warm house when it's freezing out to go work out. I'm gonna go today, dammit. UGH!
By the way, I've been virtually 100% on plan with my eating. Here's my chartadoodle:
~J