Kris Allen!
WTF?!??!?!??!
I've never been so shocked.
Well, here's to you kid:
I LOVE you, Adam! I am shocked you didn't win. You are truly a star... now hurry up and cut an album so I can buy it!!!!! <3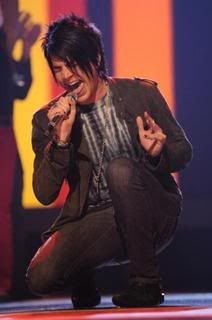 Tonight's Finale Recap...

Performances:
The top 13
performance of "So What" by Pink... SUCKED.
David Cook's
performance was phenomenal. I freakin' love him. He's ridiculously hot and mad talented. It's official, and maybe too late for an "Idol Fan"... but I have to buy his album. ****
ABC squared is getting the proceeds from the iTunes clip of David's performance tonight. Please go buy it... ABC squared is a foundation that looks for a cure for cancer.
Jason Mraz:
I'm Yours is one of my favorite songs, ever. I love that Jason was on the show. I'm pissed that blonde biatch couldn't remember the damn words when she was SINGING WITH THE ARTIST WHO WROTE IT. I mean, you had one freakin' line to remember, you stupid girl!!! On a side note... Jason... really shouldn't do the goatee thing.
Fergie / Black Eyed Peas:
I love Fergie, she's so beautiful, and I love the brown hair. The Black Eyed Peas performance got cut for some reason in the middle... I wonder what happened. All I can say is that the Black Eyed Peas are not nearly appealing without Fergie in there. She's got such a great voice and stage presence. I was bored until she started singing. Oh yeah, she's got great legs. I should mention that. Zow!
Carlos Santana:
This was great. They did a little bit of Black Magic Woman. Plus, Carlos Santana is a legend. Oh, but then the rest of the stinky idol crew came onto the stage and everyone sang Smooth. And then Adam sang and shook around a bit in his super hot outfit. Black pants, black shirt, black suspenders and a maroon tie. Holy crap.

Megan Joy, Michael Sarver and Steve Martin!
I LOVE Steve Martin. he played the banjo. Okay, Steve Martin is the shit, people. It's just too bad they put him with the stinky Megan Joy and mediocre Michael Sarver. Seriously, when Megan started "oh, owh, owhing" I wanted to stab myself in the face. Steve Martin wrote this song called "Pretty Flowers," and I feel so bad that it was slaughtered the way it was. By the way, he has a new album. It came out yesterday.

The Guys and Rod Stewart:
If you want my body and you think I'm sexy... yeah, we did have the hottest top two, plus Michael and Danny. Lots of adorable guys this year. It was cute and fun. I love how even in the large groups, Adam's voice just stands out like nobody's business. Then Rod sang for awhile and it was pretty much a snoozefest for me. I've never really been a fan.
Adam and Kris with Queen:
We are the Champions. Hell Yeah! This was just awesome... I love Queen. Oh yeah, and the rest of the Idol people were there too. :) I should say that I've noticed that Kris really has great pitch. But nothing can compare to the way Adam can sing with bands like Queen. He kicked ass!!!!
Duets:
Lil Rounds and Queen Latifah:
Can I just say Queen Latifah looked wonderful tonight? She's lost so much weight. The duet was cool and upbeat, and I had my toes a-tappin'.
Kris Allen and Keith Urban:
Alrighty. Just not my thing. Kris did a great job though.
Allison Iraheta and Cindy Lauper:
I would much rather listen to Allison than Cindy any day. I'm sorry, but how long do you have to keep singing "Time after Time?" Ugh.
Danny Gokey and Lionel Richie:
He sang "Hello" and was joined by Lionel for some other songs. I think there was some kind of problem between the band and their vocals, it seemed like they were off during "Just Chill." It's hilarious that Danny sang with Lionel... it was totally the cheesiest bit and Danny has a tendency to be cheesy. Seriously. I know all the Wisconsinites were goin' nuts seeing him perform again. He's a really good guy, he does have a really good voice, and I really do wish him luck. Really.
Adam Lambert and KISS:
Okay, did you see... did you SEE his outfit? He's absolutely not scared of anyone at this point. He was wearing these wire shoulder pad wing things, platform boots, and glitter on his eyes. So odd, so outlandish, so glam rock. I just love him. Oh yeah, then KISS came out and performed with him. So... then the shoulder pads made more sense. Gene Simmons was looking at Adam like, "WOW." :)
Golden Idol Awards:
Outstanding Male
= Nick Mitchell (Norman) -- YAY! He sang "And I am Telling You" - it was kind of his calling card song through the auditions. He's hilarious, and this was like, the best thing ever. Oh my gosh.
Best Attitude:
Katrina Darrell. I hate this bitch. Oh, and she kissed Ryan right on the lips, then he said, "I was going to ask, "What's new?" but I think I know. (Fake boobs, biatch.) HA! Oh, and you still can't sing. The best part was that they asked her to sing her audition song again. After the first few verses, Kara came out behind her and showed her exactly how to really do it. Kara just out sang her, it was AWESOME! I thought it would have been hilarious if they turned Katrina's mic off completely, but she just kind of stood there for the most part and didn't sing, looked really pissed, then tried to sing over Kara. Yeah, it didn't work. Then Kara opened her dress to show a black bikini, and she looked way hotter. Okay, sorry for the crazy recap, but it was AWESOME!!!!!!!
Outstanding Female: Tatiana DelTorro. Duh. Okay, so I can't tell if the whole thing with her going nuts with the security and everything was a joke or not. I'm gonna pass on it.
~J
Adam, you're still number one to me!