So, this ties in perfectly with my most recent post about Fat Acceptance and how I think it's fake. This is a really perfect example about what I'm saying.
You all know Mo'nique? She's fabulous and hilarious. This is the cover of a book that I bought of hers several years ago called "Skinny Women are Evil":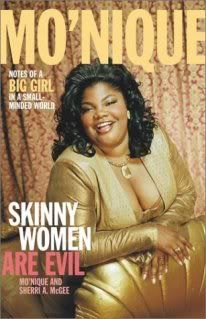 I read her first book. Have you read it? It's FULL of great little schnippets of Phat Power Phrases like "Sizeable Sisters," "Hefty Honeys," and "Big and Beautiful," etc.
Take another look at that photo of her cover.
Mmmmkay. Mo'nique, if you were so proud of your body in all of its delicious, jelly roll, soft squishy fatness, why were you hiding behind a huge gold chair on the cover of your book? Why on the back photo were you hiding behind your assistant?
So, now she's lost weight. Here is a little before and after for ya: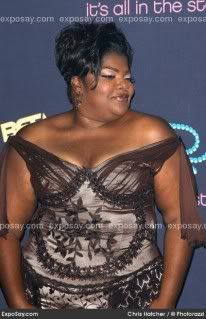 People are acting all freaked out by her weight loss. Particularly Fat Bloggers. I've seen some even threaten to take everything to do with Mo'nique off of their blogs and websites if they find out she had weight loss surgery.
Okay, first of all, it's not a surprise to me that she wanted to lose weight. I think everyone just has a "moment."
Here's a quote from her book when she was talking about Oprah's weight loss:
"...girlfriend's weight-loss antics didn't move me. It made me mad. What was wrong with representing for SIZABLE sisters? I bet that skinny girlfriend of hers, Gayle, was somewhere in the background cheering her on, too. If some shit is amiss, there's usually a skinny bitch behind it. All at once, Oprah went from being a member of the BIG and BEAUTIFUL to the skinny and skeletal. Since Miss O had abandoned us, someone else would have to champion the BIG cause."
This is what it really comes down to, y'all. Mo'nique used to say in her book, "I'm HAPPY and HEALTHY." (She likes to type a lot of words in caps for emphasis.) After you have your "Holy Shit, I can NOT be fat like this anymore" moment... this is what you'll be more likely to sound like:
Monique:
"We should all want to live healthy lives because we don't want to be in a position where there are things we can't do and places we can't go. My husband said to me one day, `I want you for a lifetime.' Then it clicked that my weight had become a major concern. I wanted to be around for my family."
And now that she's pissed off a bunch of Fat Folks by caring about herself... we'll just have to wait until the next Big Girl Idol takes a dive and stops eating fried food and cake all the time too.
As for me? I'm proud of you, Mo'nique. Go on wit yo bad self!
~J