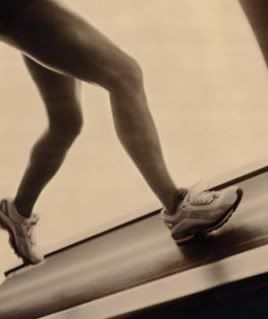 So... I went to the gym today to do a little run/walking and then go to Zumba at 6. Well, apparently I have my schedule all messed up and Zumba is at FIVE on Wednesdays, ant at 6 on Thursdays. So, I showed up about 20 minutes into the Zumba class and decided to just run/walk instead.
I walked at L3.6 for the usual 6 minutes and then planned to run my 3 minutes at L5. I got to 2 minutes and my shins and calves were killing me. I decided to do a slower warm up, thinking that would help. I went ahead and went back down to L3.4 to walk for another 6 minutes. My legs still hurt but I thought "Don't be a wuss, Jenn" and I tried to run again. I ran 1 minute and my shins and calves were hurting so much that I had to go back down to L3. They still were killing me, so I stepped off of the treadmill belt onto the sides and just stood there for a minute. I went back on and walked for about 6 more minutes. I was feeling a little better, so I ran for 1.5 minutes again, and this time did it at L5.2. I was thinking maybe the slow jog was worse for me than a little faster of a run. But, at 1.5 minutes I was in pain again so I just went down to L3 and walked. I slowed it down to 2.7 and cooled down.
Overall I was only on the treadmill for 30 minutes, and I probably only burned around 300 calories. I had my heart monitor and watch but I forgot to start recording my workout time. I did it about 1/2 way through and it said I burned around 150 calories, so double that I figure is about right.
I've read from a few runners online that one day between running is the perfect amount of time for your body to recover from the run. Today was my 3rd day in a row of running and walking. I just enjoy it so much that I kept wanting to do it. I guess I am pushing my body too hard. It's not about my heart rate or my lungs... it's my shins and calves.
I don't have shin splints -- I mean, I can walk just fine tonight and it only took me about an hour after the gym today to recover to normal. I am skipping running/walking tomorrow. I'm going to do Zumba at 6, then Gravity at 7. That's two hours of working out! Then I'm going to do my run/walk on Friday and see how I feel.
Anyone else have this problem with running? Or did you when you first started?
I guess sometimes too much enthusiasm can be a bad thing. :/
~J