Alrighty.
I had a different post I was going to do, but I think this is much more "TMI" material.
I still don't have any poop posts, so maybe something ungodly in the world of bowels will happen to me this week to tell you about next time.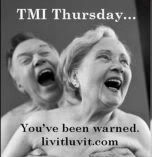 This is about me, and how freaking WEIRD I get when it's time for bed. If you had any inklings that I was a "cool" person, they will end very, very shortly.
Every night it's just about the same, unless I'm drunk or so tired I pass out in a puddle of my own drool. Dan and I do the pre-bed ritual of putting off bed time until 3 or 4 am, usually after not being able to get off of the couch without watching
"just one more"
Dexter. He grabs my butt and I run into the bathroom, and we brush our teeth. Or, he'll start to brush his teeth and I pee, and then we switch. Yeah, we've got it comfortable like that, 'cause we've lived together for four and a half years. The mystery of peepeetime is gone.
After he gets really, really excited about me letting him take my bra off for me (he lives to show off his one-handed-bra-removal-wonder-skills), it's PJ's, and under the comforters we go. Now, we don't just say "g'night," and roll over and go to bed. No. We first huddle together under the covers to retain as much body heat under there as humanly possible, 'cause it's so cold in our bedroom. Then, I inevitably start my weirdness. I do the "nook" pose where I lay my head in "the nook" of his neck and since I'm on my side facing him, have my leg on his leg and my arm on his chest. This is about the point where I do one or all of the following:
Blow zerberts on his stomach.
Lick his nipples, 'cause he doesn't particularly enjoy that, but I laugh so hard when they turn into little thumbtacks that I have to do it. Then I pinch 'em, 'cause they're fun little nubbies.
I have long nails, so I run them up and down his right side which is super ticklish, particularly when he's relaxed. I do it 'till he laughs and begs for me to stop, or until he gets goosebumps, and then begs for me to stop.

Okay, so those things might sit in the realm of semi-normal. I'm warning you, this is where it gets weird.
I try to stick my finger in his butt through his boxers. Just because he's terrified of it, and he clenches, and we laugh SO hard, it's hilarious.
I lick the spot under his armpit, 'cause his sweat is really salty, so it leaves his

skin

really salty, and dammit, I

REALLY

like salt. It tastes freakin'

delicious

to me, and he's all,

"Eew, you're SO gross!"

and I go,

"No, you're SO high in sodium, but I like it,"

and he goes,

"Gross,"

and I say,

"Salt-licious"

and lick my lips.
I fart ridiculously loud if I've got one on deck, just 'cause it drives him nuts. I don't get outright mean about it and do a Dutch Oven or anything. I just love the rumbly sound, and if you're honest, you'll admit it feels really good to let out a huge fart. And I've heard that if you don't fart regularly, you could explode, so just bear that in mind when you're trying really hard to hold one in.
The other night I suprised even myself after licking his side and I started to bite his happy trail hair. Like, I was sort of gnawing at it, and then I bit some off in my mouth, and had to spit it out. The crazy spit where you're all,

"thbthbthbthtbhtbhtbthtbt"

really fast? Yeah. And apparently in my slaphappystate, that wasn't enough bits 'o Dan-hair in my mouth and I looked up and asked him,

"Can I chew on your armpit hair?"

He looked at me with the most frightened look ever and said,

"What??"

I said,

"Yeah, I just wanna munch on it for a minute."

He was laughing pretty much uncontrollably by this time, but said,

"Sure, go for it."

And I'm pretty sure that was a dare, so I raised my eyebrows at him like,

"Oh yeah?"

and he just goes,

"You're so freaking weird."

Then I looked at his armpit. Then I looked back at him. I looked back at the armpit again and said,

"Nevermind. I didn't think about the fact that I'd get a mouthful of deodorant."

'Cause

clearly

that's the only reason you wouldn't want to chew up someone's armpit hair.

I told Dan I was writing about this today and he's like,
"Why would you tell people that stuff??"
and I said,
"Well, it's TMI Thursday, that's the point!"
And he says,
"What, to tell people you're the grossest girlfriend ever?"
Yeah. 'Cause he says that all the time, and yet, he still loves me. I'm such a lucky girl. And Dan? ...Poor bastard.
~Jenn