Yep. So, thank all of you so much for the lovely comments on my dress and the sweet Anniversary wishes! Dan and I went to the Melting Pot for our anniversary and it was DEliCIOUS...!!! I went into the day absolutely freaking out about dinner. I looked up all the nutritional info I could and started obsessing about how I could possibly eat healthy at this place.
Ultimately I decided to forget my obsessions about it and just enjoy a nice dinner.
Here's what we did:
First course:
Spinach Artichoke Cheese Fondue, served with granny smith apples, breads and veggies.
(400 calories)
Second course:
Alpine Ridge Salad, A bed of mixed greens topped with oven roasted tomatoes, award-winning Gruyère, Raclette and Fontina cheeses, hard-boiled eggs and honey roasted almonds, topped with a robust shallot vinaigrette.
(300 calories)
Third course:
Fondue Feast cooked in Court Bouillon. Filet Mignon, Sauerbraten NY Strip, Nueske's Applewood Smoked Bratwurst, Hefeweizen Marinated Shrimp, Roasted Garlic Crusted Chicken, Sun Dried Tomato Ravioli and Fresh Vegetables.
(495 calories)
Dessert course:
Bananas Foster, Silky, white chocolate swirled with bananas, brown sugar and a dash of cinnamon, flambéed tableside. Dippers: Fresh strawberries, bananas, cheesecake, Rice Krispies Treats®, marshmallows, pound cake and brownies. Holy YUM.
(673 calories.)
Oh, and we split a bottle of Asti champagne, my favorite!
So... overall, the numbers were a little terrifying, and I won't even get into the sodium count, but I only had a bowl of oatmeal for breakfast and one ritz cracker that day. I still stayed with a pretty low amount of calories considering what I ate!
In other news, I wanted to share with you all some of my favorite cold weather eats. When the temperature drops, people tend to want to eat warmer foods and this is what I like:
Diet hot chocolate (15 cals per packet with hot water)
Sugar free apple cider (made with hot water)
Hot tea
Healthy Choice soups
Spaghetti Squash with italian seasoned diced tomatoes (the low sodium/no salt added kind)
Oatmeal for breakfast
So, what do you guys like to eat/make when it's cold outside?
Also, I realized that I haven't done Music Monday in a really long time. I'm gonna share two things with you guys. One of my favorite artists is Chris Thile. He used to play mandolin in the band "Nickel Creek" and now has put together the band "Punch Brothers." He's so incredibly talented. As far as I'm concerned, I find him to be the most talented musician alive. My brother and I are going to do three back to back Punch Brothers shows in January - we're watching them in Boulder, then going to Aspen the next day and then Beaver Creek the day after that. We used to road trip a lot to see Nickel Creek play (Tulsa, OK - Cain's Ballroom is awesome!), Salt Lake City, etc.
When we went to the show in Salt Lake, we met Chris Thile. It was awesome. It was really late at night and I didn't want to be a huge pest so I just shook his hand and we didn't ask for pictures or autographs or anything. I'm hoping my brother and I will get to meet him again in January.
Here are some photos of my brother and I (first photo) and my best friends Jesse and Wes when we went to see them in Tulsa: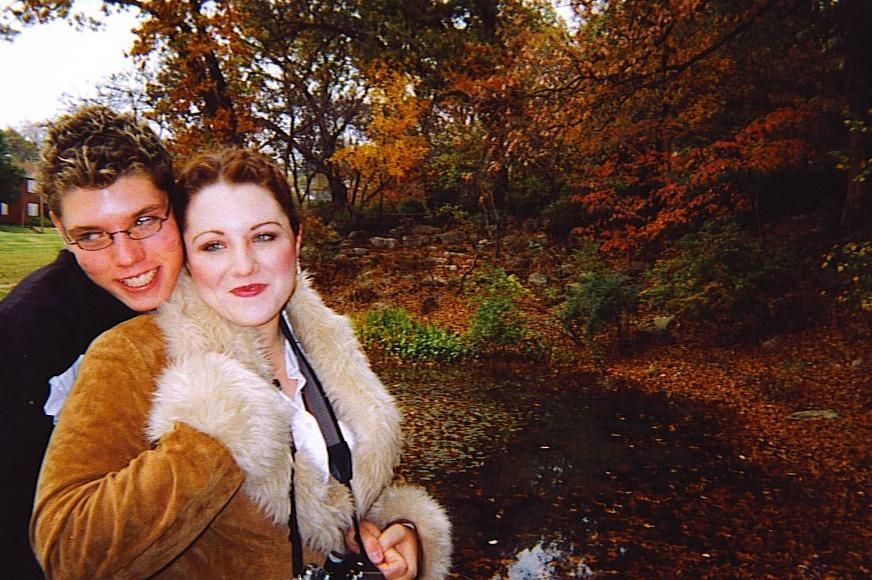 Here are two photos of me when we met Chris last time, and I was MUCH hotter for this trip than the previous one: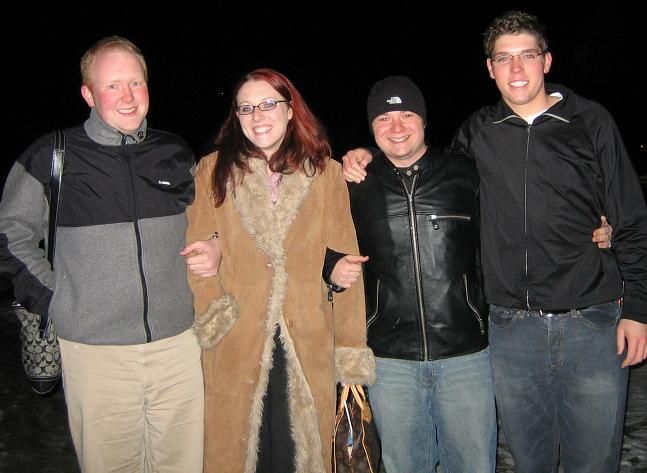 That was my favorite hair, ever. I can't wait until my hair grows out again so I can do the same hair. Possibly, forever and ever, amen. Gah!
Anyhoo! This song, How to Grow a Woman from the Ground is one of my very favorite songs of all time:
And if you're a fan of good music, and like an easy going, laid back, Jack Johnson/John Mayer kind of sound, you need to
check out Mestizo
. One of my favorite bands, ever. One of their earlier songs (also a favorite of mine) is on my
main website
. They're local to the Denver/Boulder area, so you should check out one of their shows if you're in the area. One of the things I miss most about living there is going to their shows. :(
This is a sneak peek of
one of the songs, Fade
, off of their newest album, and it's one of my favorites of theirs! You can buy their newest album
here
. I guarantee any album you buy, you're gonna love.
~Jenn