This one is courtesy of my parents. It's a story I've heard many times before, but it's one I definitely need to share with you guys on TMI Thursday.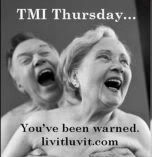 My brother Daniel was a very hyper active child. I mean, seriously hyper active, crazy ADD, wanna climb on everything and get into everything kind of kid. Not so much in the temper tantrum kind of way, but more in the chew on the corner beading kind of way. He'd swing from the curtains and he would get out of his crib during the night. My Dad woke up one night to find that Daniel had crawled out of his crib, gotten out of his room, crawled downstairs, into the kitchen, up onto the counter, opened up the drawers and started playing with the silverware.
That was the last straw. They knew they had to do something.
My parents went to the doctor and asked what to do about Daniel getting out of the crib, after all... a kid still in diapers, though posessing all the energy he did, could still hurt himself. They didn't want him falling out of the crib and knocking his dear little head on the floor or something. The doctor told them to simply put the mattress on the floor, and my brother would be fine. So, into the little window cubby the mattress went, and that's how it had to go to keep Daniel's face as cute as ever, and not smooshed on the ground after a fall. With that, they also had to put a lock on the door so he couldn't get out and into things while they were sleeping.
One morning, my lovely mother went upstairs in the old house to get Daniel up. She opened the door and noticed that the walls looked different. There was some kind of weird pattern or design all over the walls by the mattress. Now, there definitely hadn't been a room decorater invited overnight. She thought "Crayons?" But there were no play-things in the room - all the toys were kept downstairs. She crept closer and noticed that Daniel wasn't wearing his diaper.
Oh, shit.
Literally.
On the walls.
My brother, apparently, had a very, very artistic brain. No crayons? Poop will do! (paint, paint paint.)
My Mother called my Dad up to the room to check out the talent. My Dad took one look in the room and said, "Well, I have to go to work! Bye!!" (I laugh every time I hear that.) So, my Mother tells me that Daniel had a bath, the room had a bath, then Mom had a bath.
Ultra hilarious. :)
~Jenn