I have discovered the
mecca of humiliation
, and decidedly... must take part. Get ready for the first ever Ex Hot Girl installment of TMI Thursday.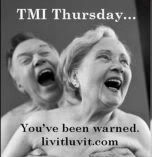 It's kind of a shame to start with something that didn't actually happen this week, but I haven't been humiliated or had anything crazy, weird, drunk or gross happen... so I'm gonna start with an oldie but a goodie.
My boyfriend Dan moved to Colorado to be with me back in May of 2005. (We've since moved back here to Milwaukee.)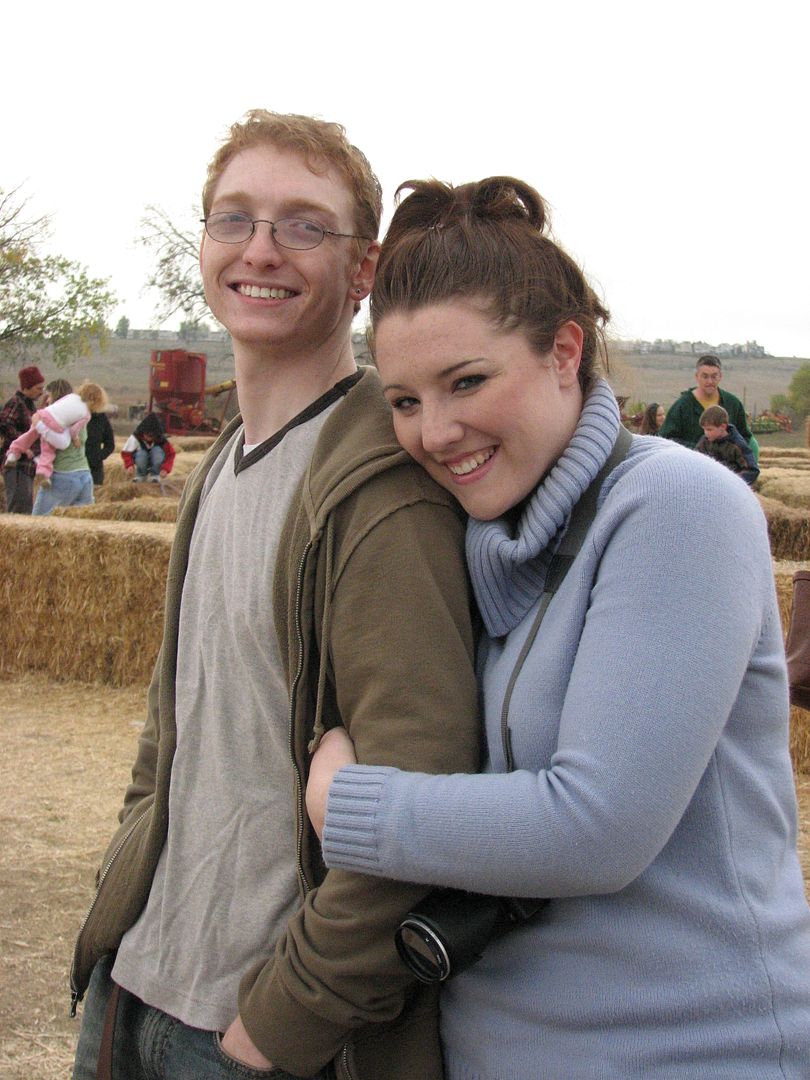 From what we can remember this happened a few months after he moved in.
It was a normal night, and I was sleeping sweetly in the bed with him after a fun night of drinking with our friends. All of a sudden I found myself torn from my sleep by the sound of scraping. Scrrrrrrrrrrrrrape. Scrrrrrrrrrrrrape.
*Grunt*
Scrrrrrrrrape.
*Grunt!*
I sat up and looked around the room trying to figure out what the crap was going on, and reached over to the spot Dan sleeps in to wake him up. He wasn't there.
Just to share, this is what I'm used to seeing: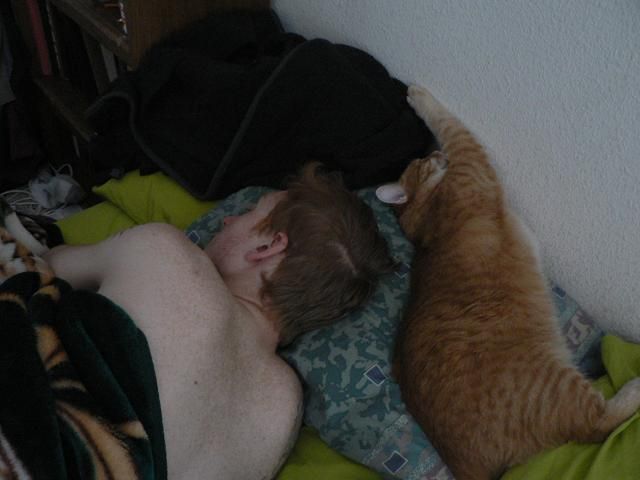 Sccrrrrrrrrrrrrape!!!
...again and it was to my left, sort of behind me. I turned around and saw Dan moving the giant bookshelf by our bed. These bookshelves are huge, and basically weigh the same as a normal dresser would. You'd think the most surprising thing about this would be that he was moving a bookshelf in the middle of the night, but in fact I was totally confused by something else. He was butt-ass-birthday suit - swingin' in the fan breeze naked.
Now, Dan doesn't sleep naked. I have no idea why he was naked. I normally enjoy it when he's naked, but this was odd and creepy, and I didn't know why he was moving the bookshelf.
I asked,
"Honey?"
"Grumble, grumble, grumble,

Scrrrrrrrape

, *Grunt!*"
"Dan? Sweetie?"
(I was shrinking into a freaked out ball at the foot of the bed, as far opposite from him as possible by this point...)
"Huh."
"What are you doing?"
"Moving this."
"Why?"
And with a really, really serious, 'Imeanbusiness,dammit' kind of tone, he said,
"It needed to be done."
I was really freaked out by this point. He didn't sound like himself, and I was maybe not quite totally awake, but I started to get scared of him. How I found myself feeling intimidated by him, in all his naked vulnerable glory, I have no idea.
I got up and tiptoed to the guest bedroom while he was focusing on the dresser. I shut the door and locked it behind me. I laid down on the guest bed (wayyyy less comfortable than our bed, in case you're ever planning to visit,) and I just waited. I don't know what I was waiting for, but something in me felt like he was gonna come chase me. Sure enough I hear the door knob twist. It stopped and hit the "clack" of a lock. "Clackclackclackclack!" He shook the door knob and rattled the door. I was actually terrified at this point.
I have no idea why I was scared, or what I thought was going to happen, like he'd bust the door down and slap me in the face with his frank and beans and say, "It needed to be done!" over and over, but I was totally tripping balls. (And no, I hadn't been smoking pot or doing drugs or anything like that. I was needlessly paranoid.)
He didn't say anything while trying to get into the room. He didn't call my name or say "What's going on?" or anything like that. I am pretty sure he was still asleep when he was trying to get in.
It didn't take long before he gave up and went back to bed. The next morning I woke up to him knocking on the door. I let him in and he came and laid down on the guest bed with me.
He asked,
"Why are you sleeping in here? Was I snoring?"
...
...
...
So... I told him the story and we laughed and laughed until we cried. To this day,
"It needed to be done"
is our answer to everything.
"Why did you eat the last of my yogurts?"
"Why did you park the car out front instead of in the garage?"
Why did I share this too-much-information story with you all?
"It needed to be done."
And just for fun, I'll share some photos that totally describe our relationship and how damn cute he is: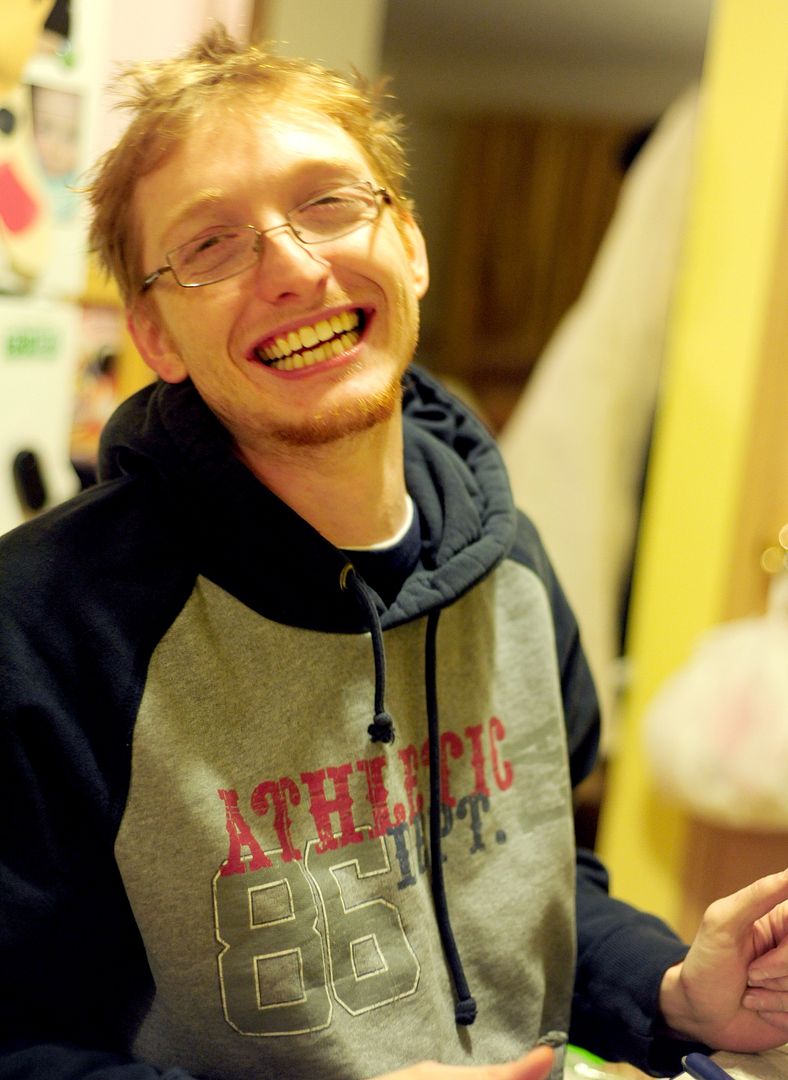 And my favorite one, cause I was so skinny. ;)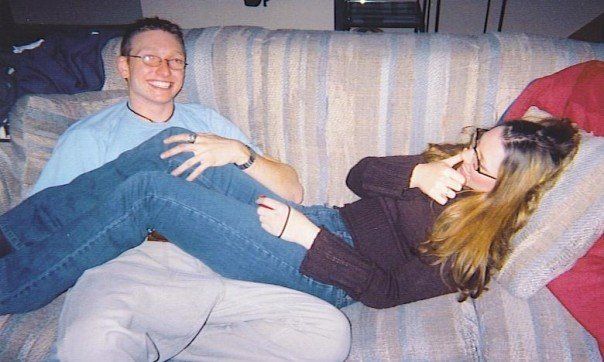 ~Jenn