Hey all!
Tomorrow Dan and I are celebrating our 5 year anniversary and I decided that I needed a nice dress to wear out to dinner. Also since I've lost some weight, I figured it'd be a nice celebration for myself.
I started by going to Torrid, and they had some really cute stuff, but I just wasn't sold on any of their dresses. I ended up walking all around the mall and passing by all the "normal" stores (read: skinny) such as Ann Taylor, Forever 21, White House/Black Market and Express. I ended up at The Boston Store as my last hope. Now I don't know if any of you have tried lately to buy a dress at a department store, but most of what is out there right now is HIDEOUS. I'm no fashionista, but I guess you have to be pretty and thin to pull off most of what's out there. And even then, it would probably look really, really ugly.
So... I found this ONE dress I liked.
A black cocktail dress by R&M Richards.
Of course, the only size they had was a 12. A commercial, department store, size 12. I'm like,
"CRAP!!!..."
And then I stood there for a good four minutes with the dress in my hand, looking around me, sweating,
(Did I mention shopping makes me sweat? Literally? And I was drinking a cup of coffee too, which was a horrible idea,)
and finally saying,
"Screw it, I'm trying this dress on."
I fully expected to be disappointed when I couldn't zip it up and knew it would depress me, but apparently I was okay with that. I found another cute non-dressy-dress in a 14 and decided to try it on, too. I'd just bought some cute shoes from Payless (BOGO!) and so I had heels to try on with my dress.
I got undressed and slid the dress, unzipped, over my head. At that point it seemed a little form fitting, and I did NOT think I'd be able to zip it up. I reached under my arm and pulled the zipper. You guys, it zipped. IT ZIPPED! Size 12! Holy crap!
I'm so freaking happy. I bought the dress. Here it is! (The model "elbows forward" pose is just for you guys.)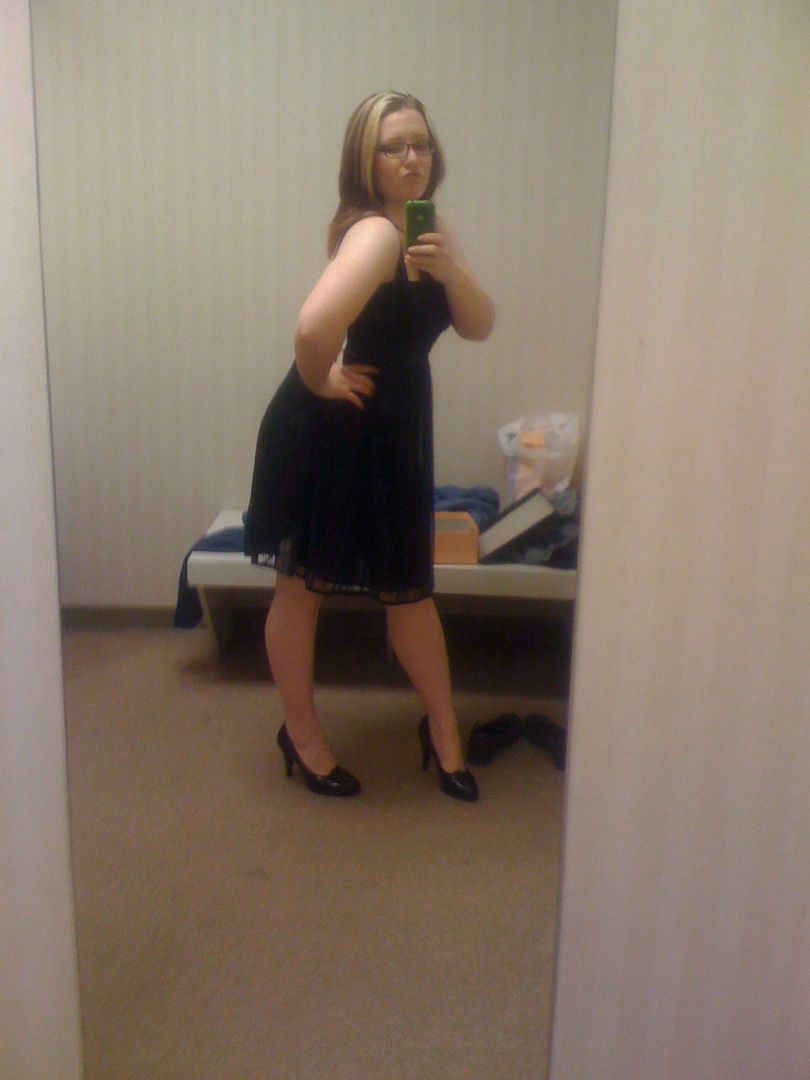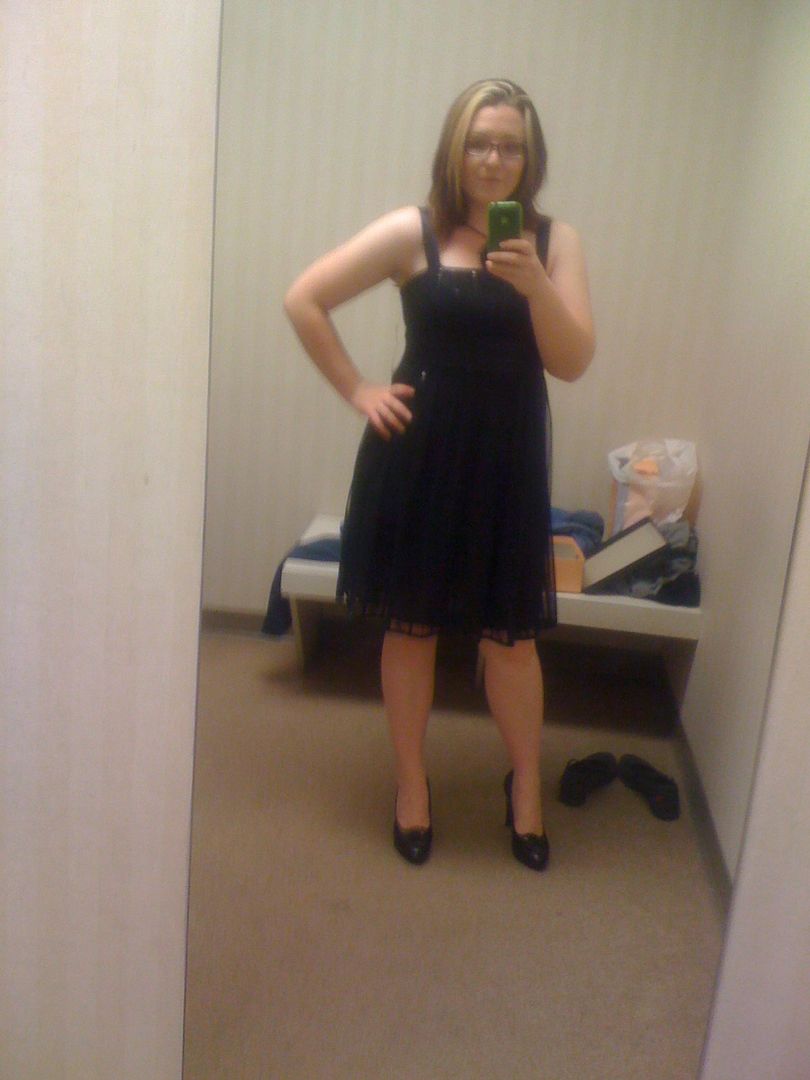 Now, I still am snug in my 14 jeans, so I think it just means that I'm a little smaller on top in the waist area and still bootylicious in my jean bottoms. But... this made my day.
So, I also tried on the other cute size 14 dress, and it was pretty short. It looks rockin' with the new cool boots I got, but in reality I don't feel comfortable dressing in this type of dress yet. And with my super cool, slick sideways skinny-me poses it doesn't look half bad, but dead forward it looks ridiculous: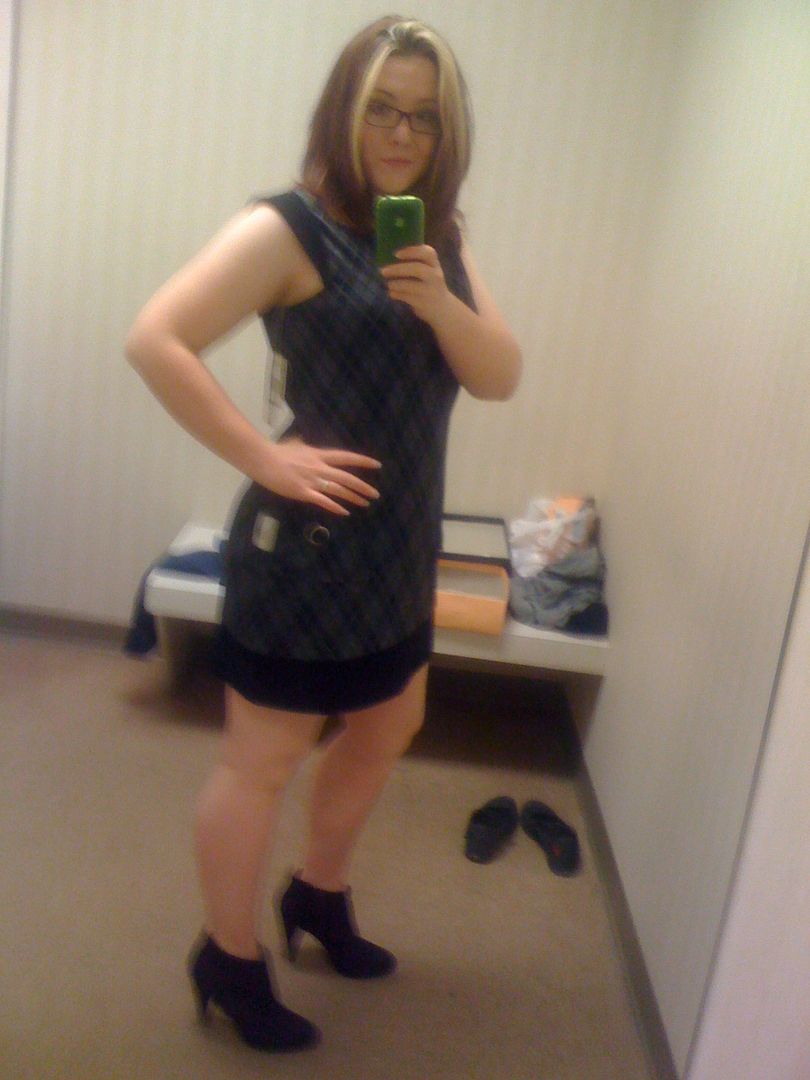 Obvi, me no likey my arms. :( Oh, and my calves aren't nearly as calvtastic without heels on. Close-up of the cool new purple boots: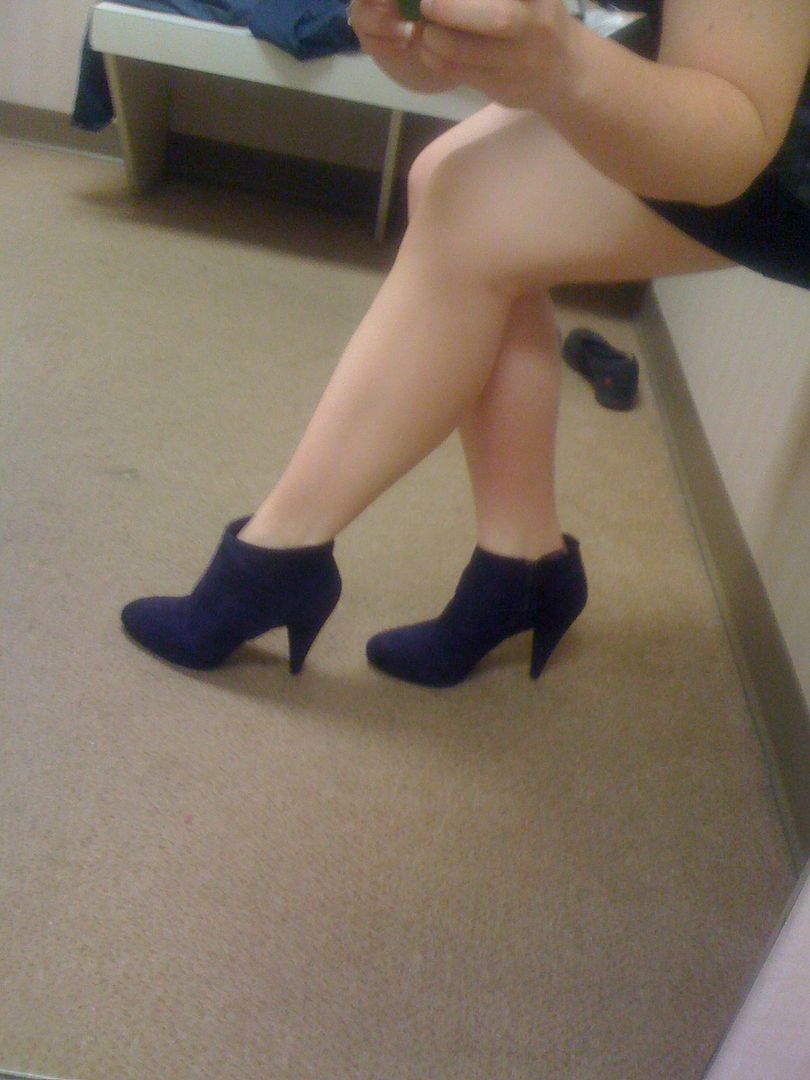 Oh! And a woman saw me buying the dress at checkout, asked where I found it and how much it was. I told her it was $69, and she asked if I had a coupon. I said no, and she handed me a 25% off coupon! I thanked her and she disappeared into the racks. I looked at the coupon and it said "Printed for L. Marie."
....Thank you, L. Marie. You saved me $20. I love your face.
And with that, I'm going to leave you all with my most hated photo. I HATE this picture of myself... it was right around Christmas/Thanksgiving time 2008, and I want to burn this picture out of existence. But I'm sharing it. It reminds me how far I've come.
~Jenn