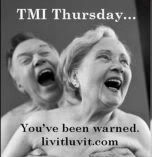 Okay. I'm gonna preface this with a little backstory on my goody-two-shoes lameness. I never drank when I was in high school. I was raised in a pretty conservative household and I was never at any "cool" parties or bondage soirees or dog fights. In fact, by the time I hit my sophomore year in college, I hadn't had more to drink than one wine cooler, for which my parents pulled me out of the musical my Junior year in high school. SO, needless to say I was a drinking virgin, to the max.
After I moved out I was reunited with some high school friends I hadn't seen in the three years since graduation. One of whom is gorgeous. I mean, seriously, ridiculously, wannastabmyselfintheface gorgeous. I had a huge crush on this guy in high school, and being the super delux nerd I was, I never had a chance with the guy. In fact, today we'll call him "Guy." 'Cause, well, he's a Guy and I'm protecting his embarassed identity for having anything to do with me.
So. I ended up at a party with him, and my alcoholic friend... Fred. Fred was wearing a welding helmet and swigging Smirnoff, and I had no idea what it tasted like, or why these people had two old doors set up on some step ladders with a bunch of cups lined up like bowling pins.
I wasn't kidding, I was in totally new drinkin' territory.
So, I was standing there with Guy, looking at his face and thinking about how I wanted to lick it off, and how I needed to say something so he didn't excuse himself to something more exciting, like picking the lint between his toenails in the bathroom. I asked him the most exhilirating thing I could come up with. "Do you guys party like this all the time?" (Brilliant, Jenn.) He said to me, "Yep, it's basically what we do." Then after a gorgeous pause, said, "You're way too much of a good girl."
Of course, being half retarded, I had no idea what to say, so I just asked him, "What do you mean?" He said, "Well, we just need to get you comfortable with drinking mid-week. Like, what would you do if I came to your house Wednesday with a bottle of whiskey?" I said, "We'd drink it." (I felt so cool at this point, you have no idea.)
So, Guy came to my house the next week with Seven and Seven and "Once Upon a Time in Mexico." I was freakin' thrilled, ya'll.
Guy. Me. Alone. Ohholyjesus.
Now, I should tell you people that I have never seen this movie. I mean, even today, never seen it. I don't know what it's about, really. I know there's some sand in it, and maybe some cowboy boots, and a hot chick somewhere. And a guitar maybe? See, I was splitting my time fairly evenly between staring at Guy's face, dreaming about his hands all over me, tugging at my shirt all nervous like, and pretending to know how to drink.
We drank shot after shot of whiskey, and I felt like the badass of badasses. Even more basasslike, of course, as I pounded back those sweet, nasty, delicious little thimblefuls of liquid pain. I was sexy and invincible, and it was awesome. But, as each shot went down my gullet-hatch, things got fuzzier, and dreamier, and queasier.
So, Guy decided that the four, five, eight, whatever number of shots we'd each taken, weren't enough. Nope. We needed to play drinking chess. (Obviously, 'cause it's way more classy than drinking checkers.) So, he was over on my floor setting this up and I, of course, got off the couch and walked over there to help him. Oh. Wait. No, I didn't. I didn't even really see him setting up the chess board, 'cause my legs didn't work. I tried to get up, but instead was sliding off the couch, onto the floor.
Guy was apparently oblivious to the prepukesdrool rolling down my chin, 'cause if he wasn't oblivious, he would have been terrified, and not nearly as excited to exclaim, "Let's play!" ...So, at this point, I was on all fours, crawling like a hallucinating crabwoman through the living room, trying really hard not to fall over before I got to the bathroom. But, I had no idea where the bathroom was. My place was all of 800 square feet, so it shouldn't have been difficult, but I had no clue what was going on except "Must. Find. Toilet." I don't exactly remember what I said, but it was probably something really close to, "Don't... feel... good," and then, I ralphed all over the carpet. Yep. Gorgeous Guy. My house. One chance to make him think I was the sexiest, coolest thing... and I puked all up on the floor.
The best part is, that apparently the first puke wasn't the only puke I needed. I just kept on crawling toward the bathroom, closed the door once I got inside and kept puking in the toilet. I came back out, pretty sure to find Guy had gone Bye-Bye. Instead? He was cleaning up my puke.
Too gorgeous, sexy as hell, Mariah Carey song style Dream Lover, Guy, cleaned up my whiskey puke.
I wanted to die.
And I've never been able to even come close to whiskey again after that.
~J