I love the movie "The Mirror Has Two Faces." I don't know if any of you like Barbra Streisand movies, or if you've ever seen this one, but I find it to be particularly inspiring when it comes to working out, eating better and changing your body. There's a part when her husband (who married her because she was unattractive, because he didn't want sex to be a distraction or a factor in his relationships) comes home from a long business trip and she's lost a ton of weight, looks beautiful, got her hair done, is wearing makeup and a sexy dress. He is outraged and says "what did you do to yourself?!!!?" She says, "Do to myself? It's not like I had surgery. I just made a few changes."
That is really what it's all about. Making a few changes in the way you live your life. My Mom and I were talking about this over coffee today. It's the way I feel. Making a few changes: Eating more natural foods. Being more active.
I haven't worked out at the gym for three days. It's harder when I don't have a gym membership out here and my parents went to the gym early in the morning all three days. I'm a work out around 4-7pm type of person. But I've been walking a lot, and stretching a lot. I'm going to try to do some work on my Mom's Bosu Ball today. The good news is that I've been eating well and eating just at or under my recommended caloric intake for each day. Except yesterday I was about 100 calories over. No biggie.
I haven't weighed myself in two days... it's probably healthier to do that. I have an obsession with the scale and I could weigh myself several times a day if I let myself. I hope to get to the point that I weigh myself weekly instead of daily.
I went shopping with my Mom for our Christmas foods today, and we made a few small changes. Where we might previously have bought a bag of white flour rolls, we got these instead:
Where she usually buys a salad mix of iceberg lettuce (zero nutritional value), we bought this instead: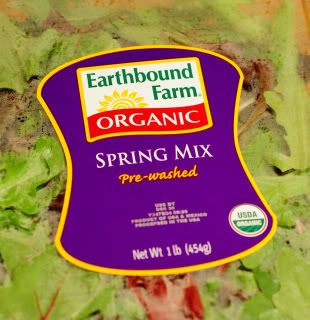 Those two things alone will provide us with healthier choices for our holiday meal.
I also wanted to share some of what I eat on a regular basis. I found a beautiful fruit salad with mango and kiwi... YUM! This is my after lunch snack:
I had Pho for lunch (Vietnamese beef noodle bowl) but I didn't get a photo of it... this is what pho looks like (image found at eatvancouver.net):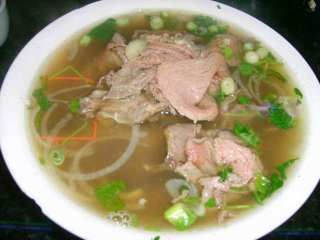 I love soy milk and all natural juice drinks and shakes: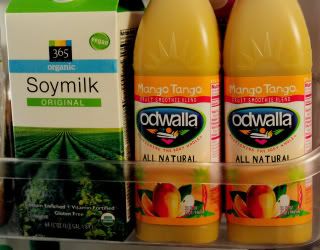 Organic Yogurt: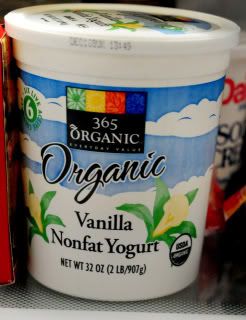 Sprouted Grain Breads:
Kashi TLC crackers:
And affordable sushi from Costco... this was only 5 bucks!:
I love sushi. And, okay, I know that California rolls are NOT real sushi because it's imitation crab... and this contains white sushi rice. BUT... sushi is still a nice, light, healthy option and I feel great after I eat it. :)
Tonight I'm off to watch my friend and his band play a show, and then going out with some friends after that. Hurray for free time! :)~
~J