Hello everyone!
So... after a few years of increasing my girth with laziness and unhealthy food love... I have decided that it's time. Time to stop making excuses, time to get moving and getting in shape, and time to start caring about my body.
This first post is a long one. I'm going to give you a bit of background on my life, weight issues and body stuff.
I used to be a hot girl. I'm currently an Ex Hot Girl. I sigh over old photos of myself and wonder why I don't look the way I used to. I really think I'm a fat girl at heart no matter what size I am. I remember being a size six in high school, and feeling like one of the fattest girls huffing and puffing around the track. I seriously hated my gym shorts because I didn't want anyone looking at my legs.
But, when I was in high school, I could eat anything. In fact, food was a non-issue. I never thought twice about Cheetos and Starbucks in high school because it didn't matter when I was in three gym classes a day. My schedule Monday through Friday included regular gym, women's athletic weight training, and I played tennis. Me. Tennis. HA! On top of that I rode my bike a lot and roller bladed when the weather was nice.
I hated gym so much that I quit doing it and switched to choir instead. By the end of my senior year, it came time to have our Christmas choir concert. We all were assigned dresses at our start in the choir. I pulled my dress out, and thought there had to be a mistake. The dress was way too small; someone had to have stolen it. I went through the show in a dress that looked like a sausage casing, and later checked the records... it was my dress. And my fat stomach.
Unfortunately, that chub didn't even compare to how things got after that. I went to college and gained weight... up to 200 lbs once I was in my first year at my "real" job, working for Equity Residential. As a leasing consultant, I pretty much had a desk job, and an office of ladies who perpetuated on junky food. Donuts, slurpees, comfort food from Boston Market, McDonalds and Taco Bell. I gained and gained.
After a guy I was seeing dumped me for another woman over the phone, I hit a breaking point. I realized I was seriously unhappy with myself and had to lose weight. I'll ashamedly admit that it was pushed because I was dumped by this guy who was an ice climber and very fit. I just knew it was because I wasn't sexy enough; I was overweight and unattractive. I was done.
I went on the Atkins diet, and I went hardcore. I came to realize that when I have a strict set of rules, I can do it. Plus, I lived alone. It's super easy to control what food you eat when you're the only one living in the house and putting food in the fridge.
I got down to 150, and I was a size 6/8. The difference was phenomenal.
Before: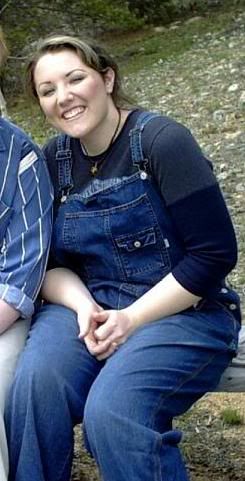 After: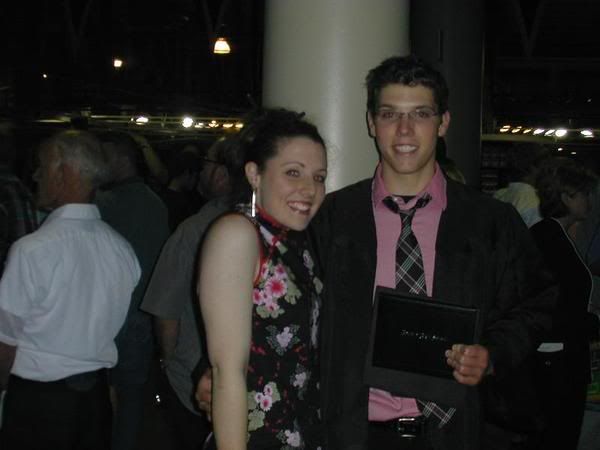 I was wildly confident and was literally to the point most women want to be at: going to a party, finding the hottest guy there, and being able to get him if I wanted to. It was awesome.
Then, I got into a relationship with my current boyfriend, future husband, and things were wonderful.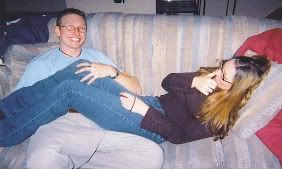 Very comfortable. TOO comfortable. This is a man who doesn't pick on me, tell me anything negative... instead is always telling me how beautiful I am. He has 5% body fat and can eat whatever he wants. Thus, our house is packed with unhealthy foods. And thus, paired with my sedentary lifestyle, I gained sixty-five pounds.
Please forgive the fact that I don't have much of a current photo. Look at the "before" one above and add 25 lbs to it. I promise I'll have a more current photo for you later.
I'll be blogging all my starting stats later so we can all get a full scope idea of what things look like for me. I know it's a rough, hard road ahead, but I'm committed to it. I want to be hot again. And it's no longer about the social idea of "hot"... but really hot for myself. Hot for my husband. (yeah, I also am motivated to lose weight for our wedding.)
So. What does hot mean?
Hot = healthy, active, feeling good. Oh, and fitting back into my size 8 jeans in the closet.
This is NOT about going the route of celebrity craze skinniness. I do not think the Olsen twins have ideal bodies, and I do NOT want to become a skeleton. This is about sexiness in the form of a lean body with curves and muscle tone.
How am I gonna do it?
I have joined an amazing gym here, and am very happy with the facility. It includes all the classes, and I got 3 personal training sessions to start me on the right path. Today, she completely kicked the crap out of me. I will be working out five days a week, Monday through Friday.
I will also be watching what I eat. No more low carb Atkins diet, but general healthy eating and watching my caloric intake. Additionally, I'll be trying to eat better in terms of less processed foods and more natural and organic foods.
So. Here's to the beginning! Hopefully my sharing all the ups and downs (hopefully more ups than downs...) will encourage you to continue your paths of fitness, start a new path of fitness, or at least think about it. :)
~J
My vision / My old self: