This is me, all sweaty.
I did 6.08 miles on the bike to try to get some oxygen flowing through my body to un-sore-ify my legs. I also did abs and upper body and lots of stretching. I talked to my personal trainer and she said that it would definitely help. She told me that she's "pretty concerned" that I was so sore after what we did on Monday... seriously, I did 10 bosu ball leg lifts to the side (per leg) and 10 lunges per leg. Add to that 15 reps on inner and outer thigh on the weight machines. And I'm this sore. So, it just comes down to the truth that I'm extremely out of shape. I've been sedentary for so long, I really need to get working.
I also talked to her about the "Biel Body" in 3-6 months theory, and she said that Dan has been watching too much "Biggest Loser." She said that if she was with me all day every day that 3-6 months could be possible, but that even for her to get to that body would require a great deal of work. That definitely makes me feel better, but also makes me realize I have a lot of work to do. I should be able to do 30 of those leg lift things, no problem.
On another note, I
booked my 8th wedding
! I've only been here in Milwaukee since November 1st, so I feel really good about the amount of work I've been getting.
After work-out lunch was the other half of my banana from breakfast and four
Spelt Olive Oil Flat Breads with Italian Herbs
with Red Pepper Hummus spread on top. YUM!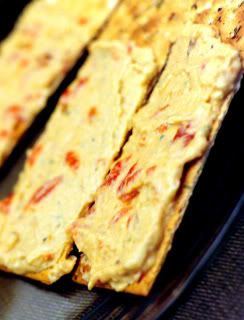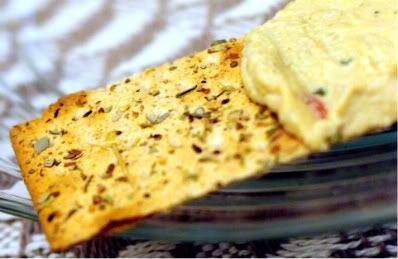 I also made a nice organic whole wheat Holyland pita with
Nancy's Organic Cultured Cream Cheese,
cucumber, avocado, lettuce and some smoked turkey. The pita didn't exactly hold together well, but it was still delicious.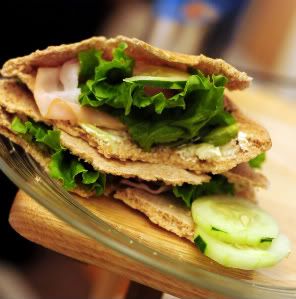 Dinner tonight will be leftovers of the
cod and rice I made last night
, and a nice green salad.
Here's to another day, y'all.