The Outpost
is our closest proximity natural / health / organic grocery store. There is a Whole Foods on the east side, but it's almost a 1/2 hour drive. I will probably try to go there next week.
Today Dan and I went to The Outpost to do a little shopping. We got some cod, a few varieties of granola and trail mix for yogurt, some fruit, veggies and a few other crackers, cereals, and soy milk.
Have I mentioned that I think I have an allergy to dairy products? It's not a stomach allergy, but it's a skin allergy. I have eczema, and I have recently found out that it's usually aggravated or brought on by an allergy to dairy products. Gah! So I'm going to try to cut dairy out of my diet for a few weeks to see how my body reacts.
Lunch today was muy delicioso. I had an awesome salad from the salad bar at The Outpost, and their homemade organic chili.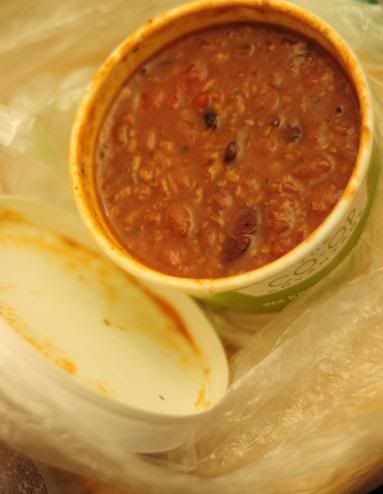 At 5:20pm my legs and ass are still killing me. I'm going to go outside and shovel the snow in a few hours to get a little cardio in. The weather is awful here, and we're on a winter storm watch until 9pm. For that, Dan has my car and I won't be going to the gym tonight. Gonna do some work the old fashioned way... but we'll have to see just how much I can do. I have another personal training session tomorrow afternoon and I won't be able to do half of what she wants me to do if my body still feels like this. I'm trying to drink water, eat balanced greens and protein... we're doing cod and salad for dinner. We'll see how I feel tomorrow!
:)~
~J