Well, it CAN be expensive.
I have gotten a few comments and some e-mails from you guys about how difficult it can be to shop for clothes when you're on a weight loss journey. We already know how women's sizes can be a bitch to figure out, but this is about dollars. When you're dropping sizes over the course of months, it's kind of overwhelming to think about the money you could spend on new clothes. None of us want to look like homeless people or bag ladies because our clothes are so baggy. None of us want to bend over to pick up a penny and have our ass cracks show themselves to the world because our pants are so big. We also don't want to drop hundreds of dollars on clothes because we're getting thinner. So, what to do?
I'm going to share with you my biggest clothes shopping secrets.
First of all, you need to discover Old Navy and Target. But Old Navy more than Target. Old Navy has really affordable and CUTE clothes. Plus, their clearance section is amazing and you can pick up a wide range of styles. Target is also great (we already know this.)
But, even better than those two places is... the Thrift Store. Now, you might be thinking "Eew, really?" Or, "No way." But I'm telling you guys, it's the BEST way to find clothes for your transition weight. If you don't know where a good thrift store is, ask friends, or ask some locals around town. There is most likely one, two, or more kick ass, clean thrift stores to go to.
Thrift stores also have TONS of variety. What I picked up today, I found in about 15 minutes of searching through the racks. I could have spent a few hours there. And there are tons of sizes. Granted, if you wear a 24 it might be somewhat harder than my wearing a 12/14, but I saw all sizes up to 28, xxl's and down to small/petites, 00. If you think about why people get rid of their clothes, weight loss is one of those reasons. So, the folks before you lost weight, donated their clothes so they could buy new ones. You can do the same thing! Also, if you find a thrift store in a nicer area, you're more likely to find brand name/designer clothes.
To illustrate my point, I have some pictures for you guys. (of course!) :) I'm also going to show you what each piece cost me, compared to the average price for one of these pieces, new.
Sweaters:
Green The Limited, size L: $2.99 (retail $50)
Grey White Stag, size 16/18: $2.39 (retail $15) (big on me but so soft and comf I had to buy it.)
Tan Banana Republic, size M: $2.99 (retail $69)
Grey GAP fleece vest, size M: $2.39 (retail $45)

Shirts:
Blue Liz Claiborne, size L: $2.39 (retail $30)
Cream Ann Taylor Loft, size cut out: $2.39 (retail $16)
Casual Dresses:
Jean Tommy Hilfiger, size 14: $2.39 (retail $75)
Brown Simply Vera Wang, size M: $2.39 (retail $58)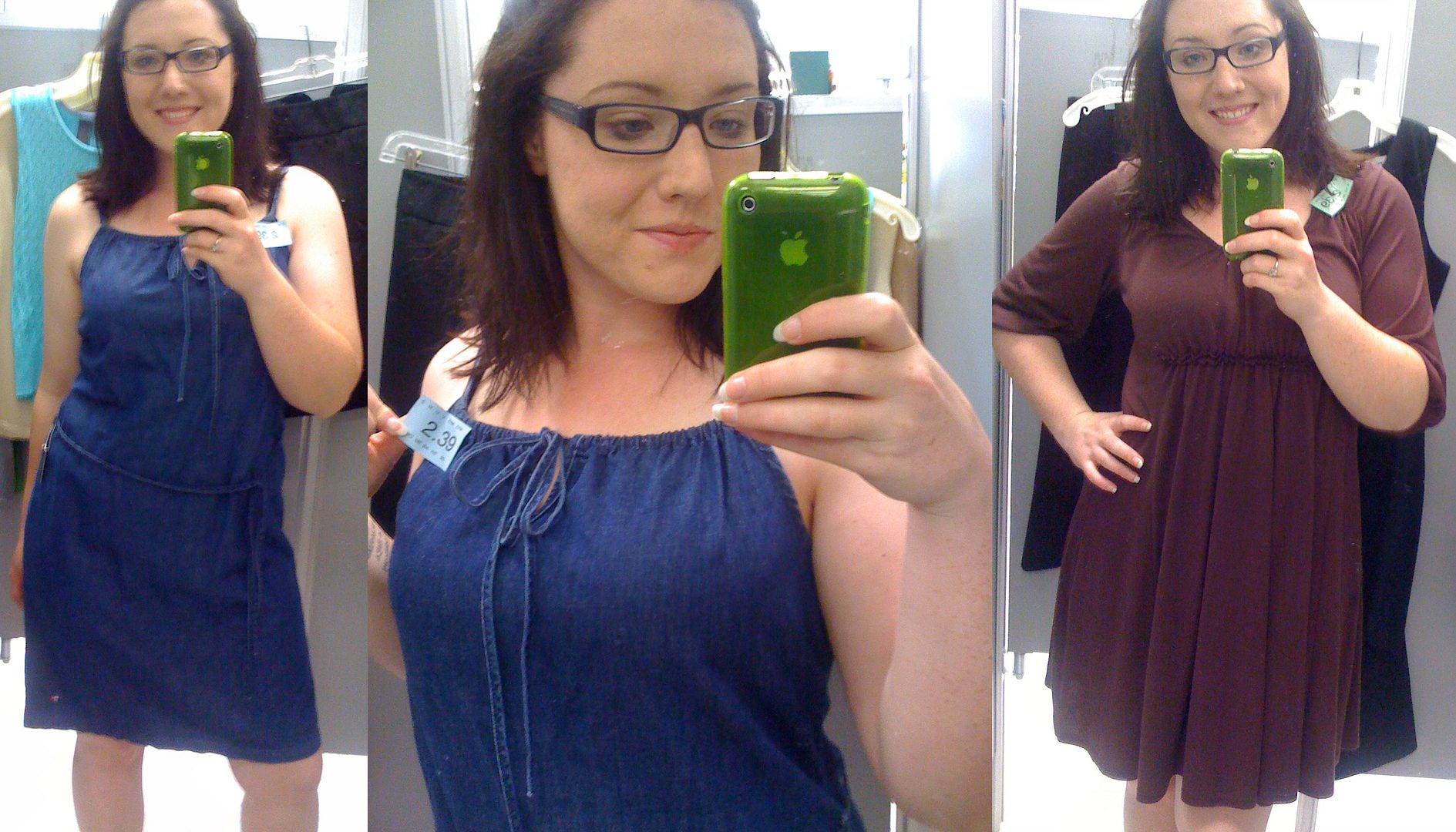 Work/dressier dresses:
Brown plaid off brand from Russia, size 10: $2.39 (I didn't buy this one.)
Black Briggs shell dress, size 12: $2.39 (retail $40) (a little tight but will be perfect in about 10 pounds)
Skirts:
Black New York and Company, size 14: $2.39 (retail $30) (I didn't buy this one)
Maroon Harve' Benard, size 12: $2.39 (retail $25)
Pants:
Brown Ann Taylor Loft, size 12: $2.39 (retail $70)
Black New York and Company, size 12: $2.39 (retail $50)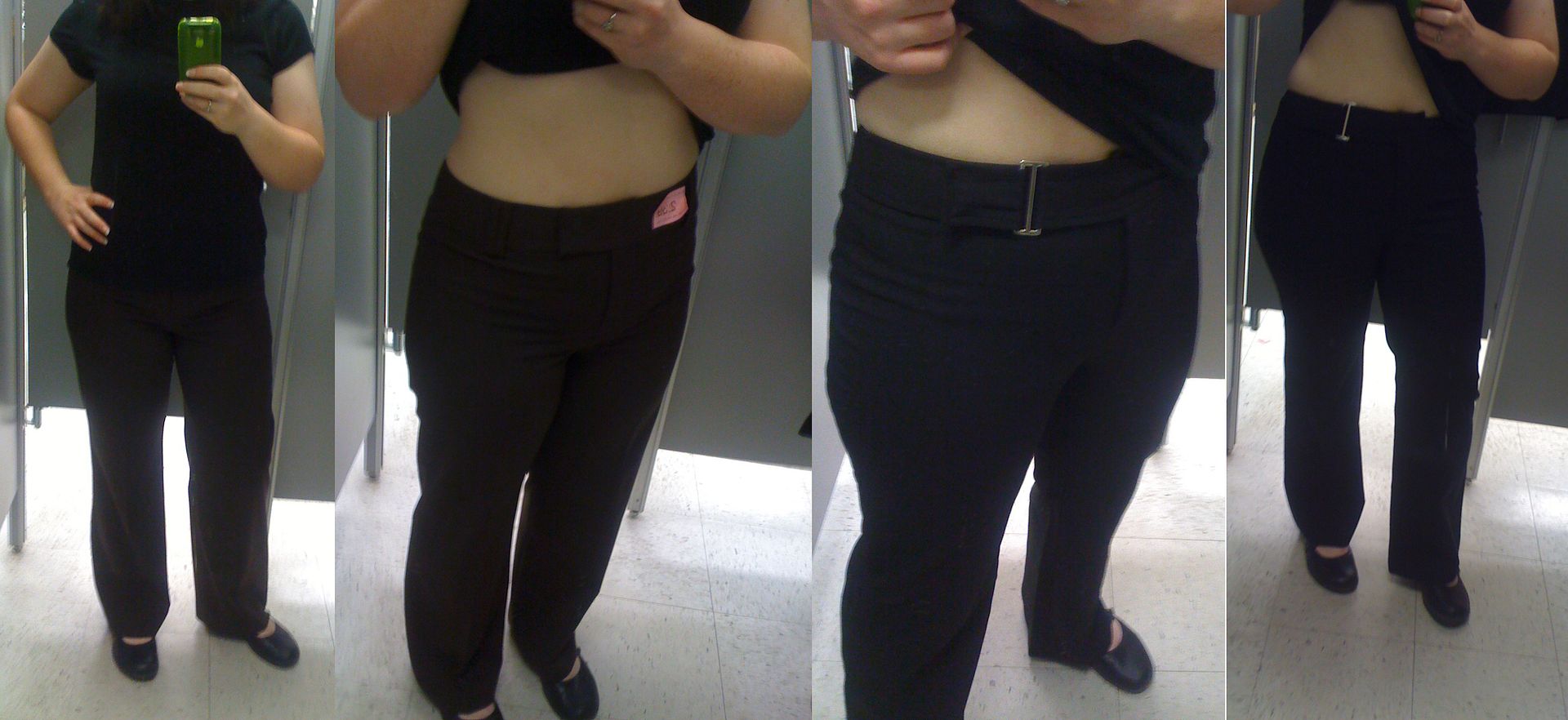 So! I got:
2 pairs pants
1 skirt
2 casual dresses
1 work dress
3 sweaters
1 fleece vest
2 sleeveless tops
I spent a grand total of $31.55. Had I bought those items or ones similar, new, it would have run me around $543.
Convinced yet? You should be. :)
Also,
rehashclothes.com
is a really cool website where you can trade clothes for free. And don't forget about the
Bloggerhood of the Traveling Not So Fat Pants
! :)
~Jenn