So, today I went to
Esther's
house and we did my day 3 and her day 4 of the 30-Day Shred! I forgot my camera so I can only show you a picture of how freakin' excited I was to be at her house, and I took this with my iPhone.
Don't worry, tomorrow I'll have a proper picture of us together! :)
Other blogger buddies who are doin' the shred:
Shredheads, the Ultimate Guide to the 30 Day Shred.
The Long Hard Road out of Hell
The Insatiable Host
Monica at Confessions of a + Sized Girl
My Shred Buddy, Esther of FaintStarLite
Erin at The XXL Files
Tammy's Tale
Fit N Healthy by Fifty
Take Up Your Bed and Walk
It's Just You And Me
I seriously think there are tons more of you guys who are doing the shred with us but I can't remember who all is doing it or not doing it. Let me know in the comments if you're shreddin' it up too! We're all gonna be svelt for the holidays, baby.
So, I'm sore. Like, ridic sore. Like, it hurts to brush my hair and put on a hoodie and stand up from the couch or sit down to pee. I'm looking forward to not being so sore and so freakin' outta shape.
I'm also a bit disappointed because I've gained a few pounds. I've heard that happens when you start doing strength training because all the tears in your muscles retain extra water. I just need to keep going and push through. I was feeling all motivated to go to the gym after we shredded today, but I felt really light headed on the drive home, so I decided to go home and eat lunch and not push it. Maybe I can get in Zumba tomorrow night. That'd be cool. I've really been feeling a desire to run and/or do the elliptical lately. It's all the Biggest Loser I've been watching, I'm sure.
So, anyway, I'm going to expand. I've had some questions asking how the shred is going. I figured the best way to show you all what it feels like is with a quick video. And it's totally TMI, 'cause it shows me working out, and it shows me in the shower. Don't get too scared... I'm not showing my nudie bits.
And just in case it's not TMI enough for you, here's a picture of me with twizzler bits stuck up my nose so I can smell them and not have to eat them.
Allrighty, here we go. And since this isn't quite the normal TMI type material, be sure to visit LiLu's blog (click the button) for all the fabulous and horrible and nasty and awesome TMI Thursday stories.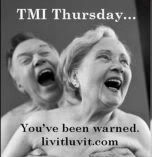 OH! And I have to say that this video was completely inspired by my sexy mama girlfriend lovah cute faced partner in crime, Sue, over at
Did I Just Eat That Outloud
. Depart forth with over yonder to check out the awesomeness that is her blog after you watch my vid. <3
~J