Day four, suck my nuts.
I got to go hang with
Esther
again today (Umm, have I mentioned she's my new BFF? In fact I dig her so much that I'd unabashedly use the term BFF. I srsly LOVE this girl.) And I don't know why my giant head looks so giant-like and why it looks like I'm going to eat her face just because I'm near it.
Anyway! We did the shred and I'm feeling okay. My right quad hates my face and my arms still really hurt, but it's not so bad. I'm actually already finding that it's a little easier despite the sore factor. I can get through the cardio fairly easily and I found that Esther and I are able to carry on a conversation virtually the whole time. I suppose that means I need to get more intense when jumping the jacks. For me, the toughest part is that the jumping around makes my calves burn so much, it's not that my lungs hurt. It's my calves.
Isn't her son Jude SO CUTE? He stared at me pretty much the whole time. I was wearing a green shirt... I think he just digs green.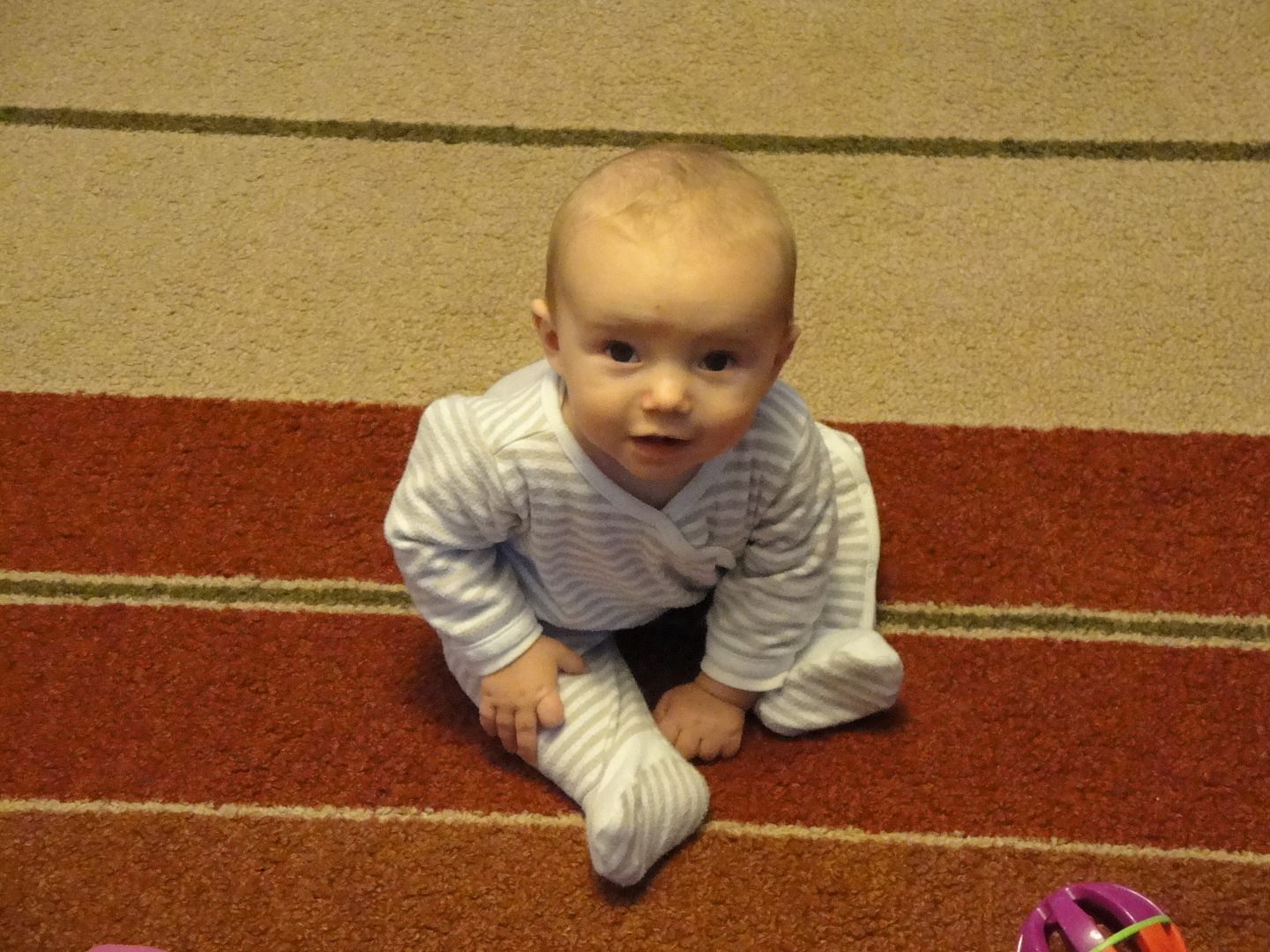 So I got a few questions from you guys, and I thought I'd answer 'em!

Q: Do people run or do other cardio in addition to "shredding"? Or is cardio built into it?
A: The way the shred is built, it includes all you need for the best quality work out in 20 minutes. It starts with a warm up, then does 2 minutes of strength, 2 minutes of cardio and 1 minute of abs. Then it repeats. It's really not that bad because it is broken down into 30 second increments within the 2 minutes, so for example, you do 30 seconds of jumping jacks, then 30 seconds of butt-kicks, then repeat.

Q: Are there rest days? Or do you shred continuously for 30 days?
A: This is one of my questions too. From what I understand, it's a continuous 30 day program. This is pretty contrary to what I've learned in the past because "they" say that you should rest your muscles between working them so there's a chance for them to recover. Right now it's all about working through the sore. But what comes to mind for me before I jump to say, "No, then this isn't how it's supposed to be and I should rest in between," is the military. Those men and women go through real boot camp and they don't get rest days. And they bust their asses for a hell of a lot longer than 20 minutes. I figure if they can do it and be alive, so can I. And the military folk have kick ass bods for a reason!
Q: Are you doing Level 3? That looks like level 3.
A: Nope, I'm wussy, starting out, and it's level 1.
Q: And by the way, why do you have FRIES IN YOUR FREEZER??
A: My boyfriend weighs 12 pounds and can eat whatever he wants. Unfortunately that means that my house is laden with fries, hot pockets, cookies, candy, chips and dip and whatever the hell else crap he wants to eat. :(
Q: How long is the work out video? I am not sure if I could last the whole time! Do you ever cheat?
A: It's about 20, 25 minutes. I can pretty much rock the whole time, but with my arms so sore, I can NOT do the full sets of push ups. Other than that, I do the whole thing. I tried to do it back when I was 45 pounds heavier and it was markedly harder. I'm looking forward to my endurance increasing so I can start to move up in levels. They say to do level 1 for 10 days, then level 2 for 10 days then level 3 for 10 days. :)
Lurve you guys and hopefully I'll be back tomorrow with something witty and clever. If not, well, at least it'll be honest.
<3 Jenn