Yeah, I think I just screwed myself.
First I'm gonna get the better news out of the way. I did my 7th day of the 30 Day Shred today and I decided to try out level 2. I was a snarky, snarky, snark pants. I thought "I'm pretty decent with everything except full "normal" push ups so I should be okay." Wrongio. Level 2 is very heavy on upper body. I'm sore right now, and I'm gonna be damn sore tomorrow.
I really do like a lot of level 2 though, so I'm thinking for the ones I can't do quite yet I'll sub out the harder strength or cardio moves from level one. So, right now I have decided that I'm saying I'm on level 1.5. :)
So, for the bad news:
I was going to do a hip lil' post on making healthy eating choices, as I nibbled away on my thin crust Pizza Hut pizza with light sauce, tomatoes and mushrooms. Then I looked online, and apparently 1/2 a large pizza is around 960 calories.
Holy shitballs. So, yeah... scratch what I was going to say on that.
Here's the damage:
Yeah. I'll come back with a healthy eating choices post... later.
ALTHOUGH... I will say that for Dan to eat 1/2 of his large Pan Pizza with sausage and mushrooms, it'll cost him 1560 calories, so by comparison mine is better. I'm used to eating Domino's, which gives you the online option of clicking "easy on the cheese," so this pizza was way too cheesy for me. But what made me honestly say, "Yeah, pizza, why not?" Dan is a horrible influence on me.
"Babe, we haven't had pizza in forever, do you mind if I order some?"
"Not at all, order whatever you want."
"Well do you want a healthy one like your thin crust veggie or something?"
"Umm, I was just going to do a salad."
"Well I've got a coupon so we could get one for you."
"Hm, well that wouldn't be too bad,"
And now I find myself sitting here feeling guilty for eating more than 2/3 my daily calorie intake in one sitting. Now, I'm normally really good about what I eat, so I'm not going to freak out too, too, too much. It's not like it's going to kill me... BUT, I want to take a second and really look at why I ate the pizza, and... was it all that super enjoyable? No. Would I do it again? Nuh-uh. Do I feel like a greasybloatedtoofullpizzaeatingpiggie? Yes.
So, next time Dan offers, I'm gonna say, "NO!" And I'll move on with my salad, y'all.
This is what I've been trying to tell you guys. Finding this "balance" in life, where sometimes it's okay to eat pizza and you can have a hot fudge sundae once in awhile... I seriously can't find that balance. I don't like it, 'cause it doesn't feel like "balance." It feels like a giant setback, and it feels like I'm weak and lazy and slothful. It feels absolutely horrible. It feels like I should go on a water fast tomorrow.
Maybe this so-called "balance" you people talk about is something you find after you lose the weight.
So... speaking of food, I also wanted to show you guys some photos. I notice that I have a compulsion to finish all my food. I'm sitting right now next to my pizza box, half full, and it's driving me a little batty that there's half a pizza left. I'm not going to eat it, but I want to. So, it's going into the fridge.
Okay, crap I just ate one more piece. (Square piece, not normal piece.) Gah! In the fridge, NOW!
So... I started to pay attention to the way Dan eats, and he leaves food all the time. I just don't do that.
We went to Chili's for dinner yesterday and I had the Guiltless Grill cedar plank tilapia... (delicious, if you're curious) with a side salad.
Dan got the rib eye with mashed potatoes and gravy and veggies, along with the butter and garlic soaked toast. (YUM...) This is what he left on his plate: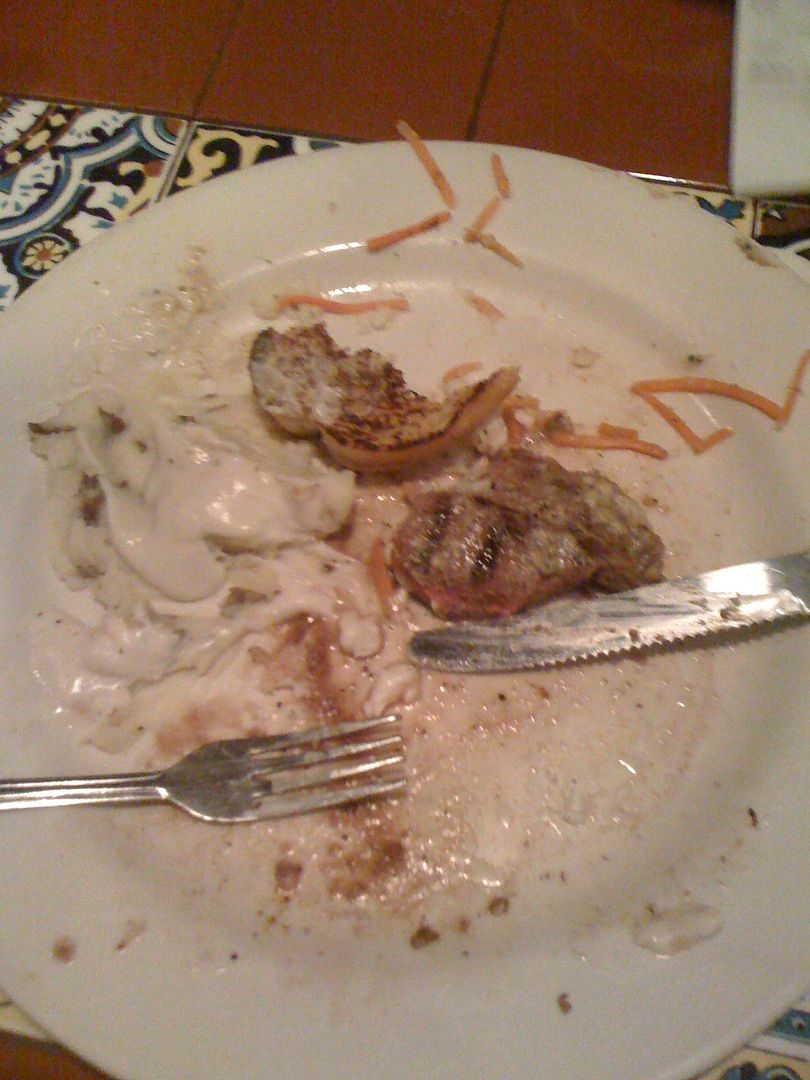 It was driving me crazy. I kept sticking my finger in the gravy and saying, "Dammit, I'd just totally eat up those little last bits."
It's just further proof that I apparently have more food issues than I already know about, and more than I thought I did. What IS the compulsion to finish all the food!?
~J