Get outta here!!!!!!!!!!!!!!!!!!!!
Today I hit 190.4 which is a milestone in one and almost two ways. The big celebration today, for my 5'7" frame, I'm no longer obese. I'm now, simply, "overweight." (((cheers)))!
* Underweight = <18.5
* Normal weight = 18.5-24.9
* Overweight = 25-29.9
* Obesity = BMI of 30 or greater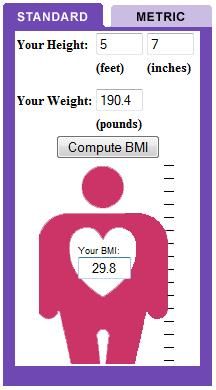 To calculate your BMI,
go here
. Or, I think there might even be a calculator on the right side column of my blog.
SO, my next BMI goal will clearly be 24.9 so I can become "normal." That means I need to get down to 159 pounds. From 190.4 to 159 is a loss of another 31.4 pounds (wow!) ... Yep, I've still got a lot of work to do.
But, nonetheless, I get one of these bad boys from
Scale Junkie
(Have I told you how I love you so, Scale Junkie??!!)
And, though I still see those pesky .4 pounds... I'm gonna jump the gun and say I get this one too for going from 225 down to 190:
Whoodiefreakinhooo!!!!!!!!!!!!!!!!!!!!!!
...Also, have I mentioned that I love you guys? You're the best, seriously. You keep me accountable, motivated and feeling like I'm not alone on this weight loss journey thing.
<3
Jenn