Before I get into my huge blog post, I'm gonna share a better photo of my hair!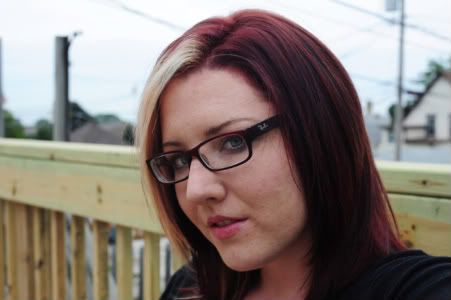 Dan came home last night and said,
"Hey Rogue!"
I had no idea what he meant so I just kinda smiled. Then his friend Mark came over and Dan said to him,
"Doesn't she look like Rogue?"
Mark said,
"Yeah!"
Then I realized he meant this chick from X-Men:
Or the cooler, comic book version: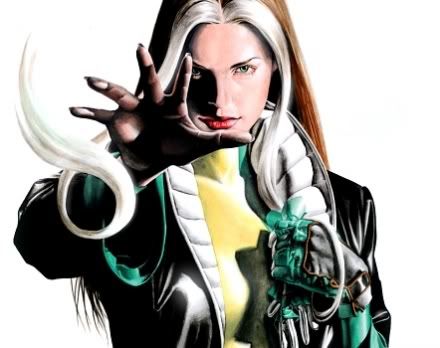 So! Anyway.
What I really wanted to blog about today is healthy eating, and how we all freakin' know how to do it. I'll start with a little bit of a back story:
Considering the fact that I used to be fairly thin, was in a variety of weight and gym classes in high school, and have been through the gain and loss of the same damn 50 pounds a few times, I definitely know a LOT about weight loss and health. I know how to eat to lose weight and how to work out to keep your body its best. How to avoid injury in the gym, and what kinds of exercises to do if you have a bad back, pain in your knees, etc. I know the benefits of different types of diets, how to eat if your skin is dry and the differences between various kinds of carbohydrates, fats and sugars. It's pretty ridiculous.
SO. It is hilarious because, though I'm a fat girl, I get phone calls from my brother, friends and my parents with questions on all these kinds of things all the time. I give good advice, I know that. I hear back from people "that really worked!" or, "I can't believe it was so simple" (ha!) -- and it has always kind of perplexed me. You know the old saying, "Don't trust a fat doctor or a skinny chef"? Well, I'm sure as shit no doctor, but I also would be remiss to take health or fitness advice from someone fatter than me.
And I know a LOT of you guys know what I'm talking about and can relate.
We know how to count calories, we know how to work out in our optimum heart rate range. We know how to stretch and run and flex and bend. We know how to grill, sautee, bake, chop, and master those healthy recipes. We've munched on rice cakes covered in fat free cottage cheese (my personal favorite) or low fat string cheese, or salad after salad, and what the fuck, we're still fat!
So my question is... WHY is that???
Granted, I'm losing weight now, but ... if I know so freakin much about weight loss, eating, exercise and all that... I should be a personal trainer and be super hot and in shape. But I'm not. The only thing I can really figure is that it has to be one of the following:
1. Laziness
2. Doing things half assed (see number 1)
3. ??????
A lot of anti fat hate folks would go on to add in number 3 and 4 spots "genes" or "something else not my fault here" but I can't bring myself to do it. I've been thinner before and I can do it again.
So I'm curious to know y'all's comments on this subject. 'Cause I know you have big ripply brains and will share your thoughts with me.
~J