My birthday is August 15th, and I've already been wished a happy birthday by several restaurants. Oi Vey!
Red Robin
Dairy Queen
On the Border
Noodles and Company
They all have sent me coupons for free food!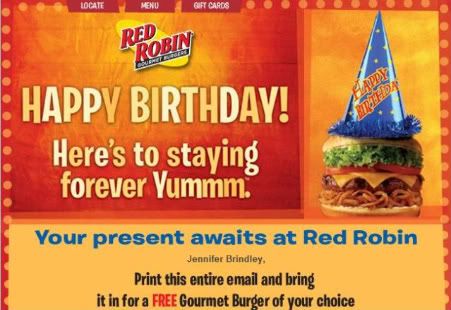 The lowest calorie items I can find for these places are:
Natural Burger @ Red Robin: 570 calories, 979g sodium (just for the burger, no fries!)
Small Hawaiian Blizzard @ Dairy Queen: 440 calories
Small Bangkok Curry @ Noodles and Company: 250 calories (less than I thought!)
Chicken Enchilada w/ beans and rice @ On the Border: 610 calories
My parents asked me where I'd like to go for my birthday celebration. I told them I would love to go to
Sweet Tomatoes
. If you don't have one in your state (There isn't one in Milwaukee, which sucks)- you should definitely go to one if you ever get the opportunity to. It's the most awesome salad bar place, ever. I remember a place called "Healthy Habits" that used to be in Colorado. It was SO good, and then it got shut down for some reason. I have lots of fun family memories there, so it's kind of a bummer. But, Sweet Tomatoes is a close second and a great alternative.
So, I'm sorry to all you high fat, super yummy restaurants and dessert places. I'm gonna keep my belly in check by NOT taking part in free blizzards, brownie desserts, noodle dishes and burgers.
Not-so-regrettably,
Jenn
P.S. If you haven't already,
go check out the photos
from the wedding I shot last night! It was a fun one.
P.S.S. I am running on 2.5 hours of laying in bed, not quite sleeping. Gotta love 6am flights. Yucky! Welp, gettin' on the plane in a few minutes. I'll update soon!