This is a vast improvement upon the lasagna recipe I posted a while back from Quick & Healthy Recipes and Ides. (Where I get most of my recipes for the week.)
I liked it well enough but it was too thin, and just didn't have enough substance. So, I modified!
Jenn's Kick ASS Lasagna
1 large container fat free cottage cheese (small curd)
2 tbsp dried parsley
2 tsp chopped garlic
1 jar spaghetti sauce (I used Prego's heart healthy sundried tomato and vegetable chunk)
1 box whole wheat uncooked lasagna noodles
2 cups Italian cheese blend (shredded)
1/4 cup Parmesan cheese
1 package sliced portobello mushrooms
1 yellow squash, sliced
1 cup spinach leaves
Preheat oven to 350 degrees. Spray a 13x9 inch baking pan with nonstick cooking spray.
Mix cottage cheese, parsley and chopped garlic.
Pour a bit of sauce in the pan and spread it around to cover the bottom. Layer in this order: 4 noodles, 1/2 cheese mixture, 1/3 shredded cheese, 1 cup sauce, spinach leaves. Then 4 more noodles, 1/2 cheese mixture, 1/3 shredded cheese, portobello mushrooms, squash slices, 1 cup sauce. Then, 4 more noodles and top with remaining sauce. Sprinkle Parmesan cheese over the top.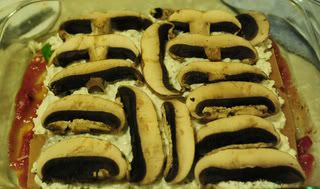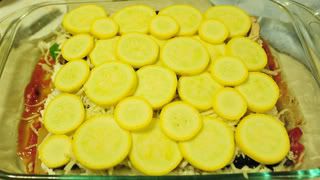 Bake for 1 hour. After 45 minutes sprinkle remaining 1/3 of cheese on top and bake for the last 15 minutes. (I like a crunchy top, but if you want it to remain soft, cover the pan with aluminum foil before baking.)
Deeeelicious!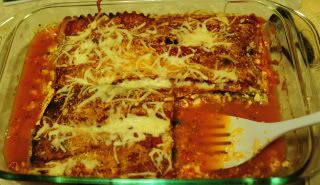 Original Nutrient Analysis:
1/12th lasagna
218 calories
5g fat
2g saturated fat
9mg cholesterol
596mg sodium
28g total carbohydrate
2g dietary fiber
6g sugar
15g protein
The difference is lots more veggies in mine, and 1 extra cup of cheese. Plus I use fat free cottage cheese instead of low fat like the original recipe called for. Additionally I use the whole wheat noodles so I am sure to have a lot more fiber in my version. The trade off is a lot more flavor, and I'm sure it'll still keep the calories under 300. :)
~J