This week definitely tickled my pickled heart, because it was Michael Jackson week!
I'm jealous about the "Glam Squad" - they get taken out shopping with a stylist and get all beautified up and get to keep their clothes too! Jeez! :)
Also, I don't know what's going on with Paula - she sounds like she's going to break down crying at any minute.
So, here is my take on the singers this week:
1. Lil Rounds - The way You Make Me Feel:
A woman should not sing this song. I HATE when singers cover songs from the opposite sex and change the words... example: "girl" to "boy." Absolutely drives me f-cking crazy. Aside from that, I didn't like this song for her - she's got such an awesome voice, but it seemed like she was just a step behind and under the song. And then she ends on this operatic note for "The way you make me feeeeeeeeeeeeeeeeeeeeeeeeeeeeeeeel"? -- not cool. I don't understand why the judges liked it so much - at least Simon has sense and says that it was a lazy song choice and he hates her outfit.
2. Scott MacIntyre - Keep The Faith:
He needs to be playing the piano every freaking week. And I dug the jacket with the popped collar! Also a very smart choice for a blind man singing on American Idol... it embodies his whole thing - ya know, overcoming odds and all. Falsetto note kicked ass, and he reminded me of Billy Joel.
3. Danny Gokey - PYT (Pretty Young Thing):
He really could win. Oh, and I'm so happy he's from Milwaukee!
4. Michael Sarver - You Are Not Alone:
He has a pleasant enough voice, but he just doesn't have the star quality needed to win this kind of competition.
5. Jasmine Murray - I'll Be There:
This is a great song. It's a little risky because Mariah Carey kicked this song's ass back in the nineties. Jasmine is really cute and seems very sweet. She has a strong voice and I think has struggled the last two weeks in finding the right song. She did a really good job tonight - and I dug the way she ended the song.
6. Kris Allen - Remember The Time:
He's totally hot. Okay. Love the guitar, love the arrangement, and he really really reminds me of Jason Mraz. Very enthusiastic and charismatic. The only thing I could say is that he should tone down his "b's" a bit - he's puffing into the mic. Over all... he could be a contender for the finals if he keeps this up.
7. Allison Iraheta - Give In To Me:
She's awesome - if any girls get into the finals, it should be her. She reminds me of Pink, and she's fantastic. And only 16! Holy canoli!
8. Anoop Desai - Beat It:
Hmm... I didn't like that he did the little Michael Jackson breathing thing. It makes it sound like an imitation instead of a unique rendition. This song just doesn't show off his voice.
9. Jorge Nunez - Never Can Say Goodbye:
I LOVE this song. Seriously. And I think Jorge is a dark horse - he's got a really, really great voice. The song wasn't the best choice for his voice - it was quite old fashioned sounding with the arrangement the way it was. (Of course Simon says it after I type it.) But I like him and I hope he comes back.
10. Megan Joy - Rockin' Robin:
Really cheesy, dude, seriously, she drives me nuts. No me gusta.
11. Adam Lambert - Black and White:
I was wondering who'd do this song. It's a great song. PERFECT song for him! He's such star quality - it's weird, I feel like he's above this show, and I LOVE this show. This make me feel like it could be a three-guy finals again this year. The bridge melted my FACE off.
12. Matt Giraud - Human Nature:
First of all, what a sweet family! Now to the song. I love his piano playing. (We've got a huge pool of talent this year.) This song was a cool choice for him and I think it showed off his vocal range. The falsetto parts were a little out of control just a bit, but overall, the song ended too quickly for me, and that's a good sign. They mentioned a similarity to Justin Timberlake and I can't believe I didn't catch that.
13. Alexis Grace - Dirty Diana:
Great song choice for her - she's a little badass. I'd never heard this song before and ... it's awesome. I don't know how I'll pick favorites this season - the rocker chicks are so awesome. What a tough thing to have to end the show. And she's got a phenomenal body, just to mention that. I wish I had those legs! :(
I'm white just like her... see? I should totally make this my (unrealistic) goal: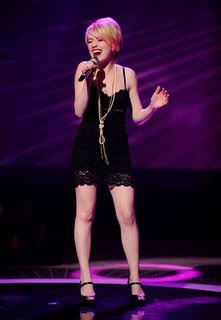 And regarding the big surprise for the show tomorrow... I think the judges are going to have veto power to override America's vote.