And I am, bitches!!!!!!!!!!!!!!!
Today I FINALLY dipped down under the 180's. I weighed in at 179.2 (so yes, obviously, I've been poopin' again.)
Erm, ya. Sorry about my ridiculous toenails. That, my friends, is what a pedicure from MARCH looks like. Yeah. That's that really incredible Chinese nail polish. Just nuts awesome sticks on your toenails and wont' go anywhere stuff. I seriously need a pedicure. I'm so stinkin' lazy.
Anyway! I get to relish in these now, from the ever lovely
Scale Junkie
:
45 Pounds lost:
Which also means 3.21 Stone, just for my Brit friends:
And as of today, that means 20% of my total body weight is gone!
Holy crap. 20%? WOW! That's just nuts.
Just had to share my happy excitement with you all.
So yeah, of course I was feelin' kind of thinner last night and started crunching some numbers as USUAL. If I ever have trouble falling asleep I just fall into weight loss fantasies and it slips me right to sleep. So I've got six weeks before I go back to Denver (remind me again why I measure my weight loss by visits home...) - and I want to lose 15 pounds by then. That's a little less than 3 pounds a week. I think I can!
Well, I need to push it into high gear, 'cause I've been losing around 1 pound a week lately and that crap just isn't going to fly. If things continue at that rate I won't reach my goal until July 30th of 2010. No thank you. (Although being thin enough to wear shorts when it's hot will be hawt) I still want to get the weight off as soon as possible.
So, I've identified my areas of weakness and here they are for you all to scrutinize:
1. TOO MANY CARBS. (I feel like we've been here before...)
2. Nibbles of treats = too many carbs anyway (aka: a bite of Dan's oatmeal cookie, etc)
3. Not enough fiber. I'll be eating more salads, thank you.
and the one I don't want to add, but I'm going to so I can be totally honest:
4. No physical activity except for sex and an occasional Zumba. And carrying groceries and crap up and down the stairs, and laundry. Which doesn't really count. I'm a lazy slothful sloth and I HATE WORKING OUT.
/phew.
On another note, I tried Nutella for the first time. Oh. Sweet. Heavens. ...I should have saved myself the $3.33, 'cause it's in the cupboard calling to me right now. NO, Nutella! Die! I'm going to put you in the trash! ... Okay, I won't, but seriously. Please don't torture me. I thought peanut butter was difficult enough to deal with. Now I have daydreams of Nutella and banana crepes.
Another thing: Have you guys SEEN the "side salad" at Applebees? 'Cause it's totally huge. There is nothing "side" about this thing.
And who puts bacon on a SIDE salad anyway? Vegetarians will order a side salad and not think they need to ask, "Hey, does this come with pig flesh on it?" - I think they need to re-think their side salad antics. Until then, I'm eating at CHILI's.
And last but not least, I'm sharing with you guys the most de-freakin-licious salad I've ever made: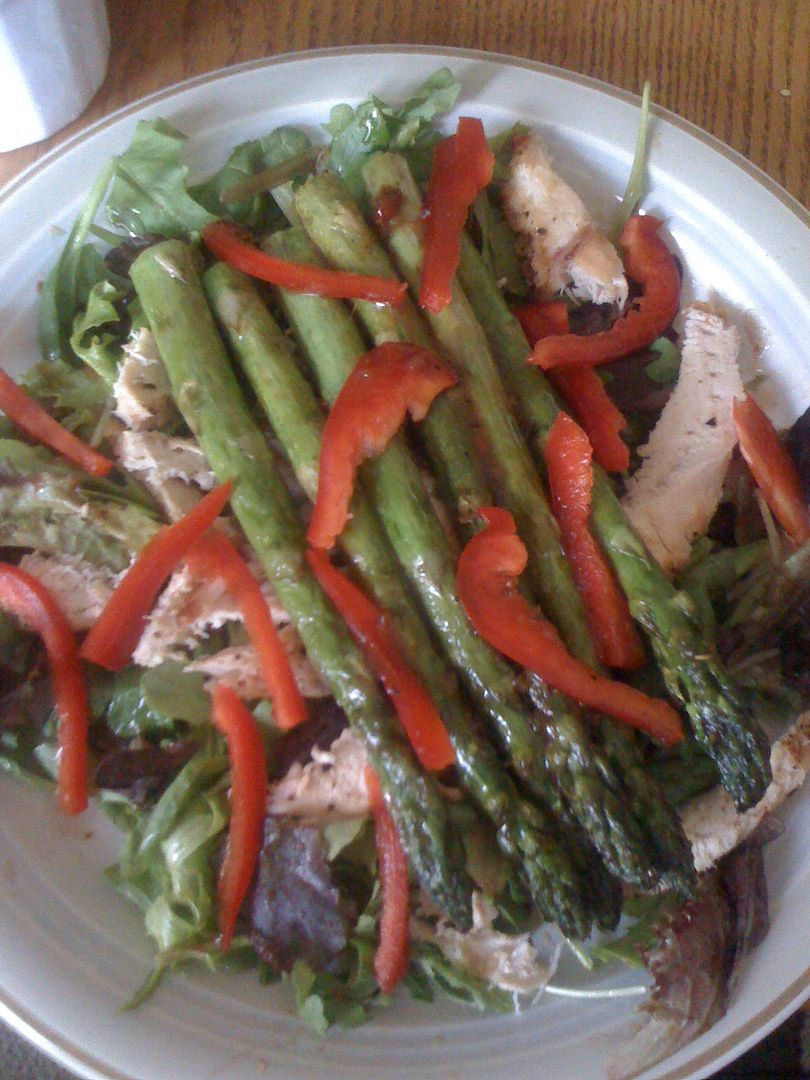 Grilled chicken, grilled asparagus on top of mixed greens and slices of red bell pepper tossed in a light sun dried tomato dressing! YUM!