Unfortunately, USPS has failed to deliver my camera cord in a timely fashion, so the reveal on the
giant panties
will have to wait until next week.
But have no fear. I'm going to let it rip this week with a way, way, WAY TMI Thursday.
Here goes.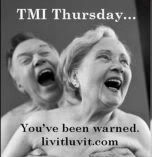 Okay.
I'm six or seven years old. We're living in the same house as we did during the
poop paint incident
. I have an obsession and fascination with all things "grown up," and particularly with all things "Mom." As most young girls, I am intrigued by lipstick and dresses and heels and all the little schniblits of womanhood I find in my Mom's drawers. Well, this day I decide to go through the cabinets in the bathroom.
I find all kinds of stuff I've seen before: toilet paper, cleaning supplies, creams and ointments, etc. One thing I find, I'm not quite sure what it is, but I know it's distinctly Mom.
A box of tampons.
I pull one out and I have no clue what it is or what it does or what it's for. I immediately stuff it into my pocket and run down the hall into my room. I shut myself inside and sit on the bed. I pull the tampon out of my pocket and I look at it.
What the crap is this thing?
I open the paper and pull out this weird cardboard contraption with a string on it. I'm pretty sure it goes into a person but I have no idea how, or where it's supposed to go. I figure if it was meant for the ears or nose I would have seen it by now, so I determine it has to go somewhere down
there
. Now, I consider my girlie-bits to be an off-limits, no touchie zone. I certainly don't think anything goes IN there, 'cause it's covered up all the time, and nothing comes OUT of there. Because I'm
six
.
It's obvious then. This tampon thing goes in my butt.
I'm really quiet and listen hard to make sure nobody is coming up the stairs or in the hallway. Coast clear. I pull down my pants and underwear. I get into a squatkneelbootieout type of position, still on the bed, all wobbly, and I try to put the tampon in my butt.
I get nowhere. I try again, and it kind of hurts. I push a little more and it stays sorta in there. So I'm squatkneeling there with this thing in my butt, and I DO NOT GET IT. I wait another few seconds and then declare to myself, "This is dumb," and pull it out. I pull up my pants and wrap the tampon up in a bunch of tissue paper and throw it away in my bedroom trash can.
I have never told anyone about this. You guys should really, really feel special.
So. Don't put tampons in your butt. That's not what they're for.
Unless you're taking
Alli
.
~J