I know, I know. You probably think this is a post all about what happened to me last night. It's actually not... I'll get to that in a minute.
This is actually about the most strange and hilarious thing I discovered on Twitter. Sometimes my blog entries get Tweeted by random people if there are bits of content in there that relate to them or what they do. For example,
411 Breast Cancer
tweeted
my most recent wedding
because of the pink fountain for the Breast Cancer walk.
So, yesterday I saw that these three winners tweeted
my last post
about the movie "Disfigured."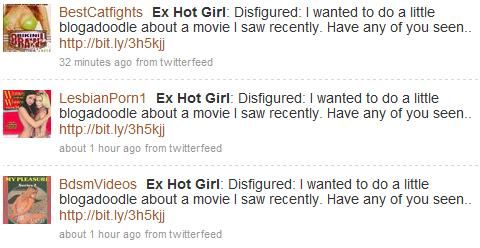 I went back through the entry and obviously the thing they think relates to lesbian action has got to be my wanting to cover
Miss Marilee
with pudding. But I'm telling you, I seriously can't figure out where BDSM fits in to that entry. I'm pretty well learned on riding crops and ball gags, so If you have some otherworldly magical BDSM insight, please, let me know where I slipped that subliminal message in while I was talking about eating disorders. I am pretty sure I didn't mention candle wax or clamps.
Wait a second. ...Now that I think about it, the night I watched Disfigured, I also watched The Story of O.
Holy crap. I think the Dirty Twitterers are stalking me. YES!!!!!!
So, if that's the case, they clearly saw my night last night. Nothing too spectacular, we had a few friends over and did some grilling. I started with grilled chicken and asparagus, then had a Miller Light. I'll also own up to having eaten somewhere around six sour cream and onion lays potato chips, and then Dan made shish-kabobs with onion, green pepper, red pepper, mushroom, and some incredible steak. Yeah. I had two kabobs, and therefore had the equivalent of probably 1.5 ounces of red meat. (shriek!!!!!!!!!!) At least it wasn't ground beef, y'all. I couldn't say no... they were delicious.
But I'm avoiding the real subject here. The Wheat Thins. THE WHEAT THINS! I don't know about you all, but Wheat Thins are my weakness. I love them, they're amazing. Dan brought some home, and it's not because he was being a bastard (he's only a bastard when he brings home custard,) but because I ASKED him to buy some. Over the course of the night I probably ate 1/4 of that box. And it was the huge box. I just kept reaching down into this box without even really looking at it or thinking about it, and grabbing handfuls of these crackers. Granted I wasn't shoving them directly into my giant, ridiculous mouth (like I do with cereal on a moron-themed-binge) but it was basically the same idea.
Oh, wait. He did bring home chocolate mousse cake (his latest obsession,) and I had three forkfuls of it.
So, needless to say, I'm off to a rotten start for the
Hot 100 Challenge
. I've been drinking the water, but I don't know if I'm going to have lost 2 pounds the first week. I started strong today with a packet of oatmeal and some coffee. But that's because it was so freezing cold in my house today that I'm doubling up on sweats and booties.
Seriously, it's freezing in here. I'm wearing my boyfriend's Indianapolis hoodie. Please ignore my filthy bathroom mirror.:
Is this the proper technique for showing you my Old Navy booties? I suck at the MySpace-esque photo thing: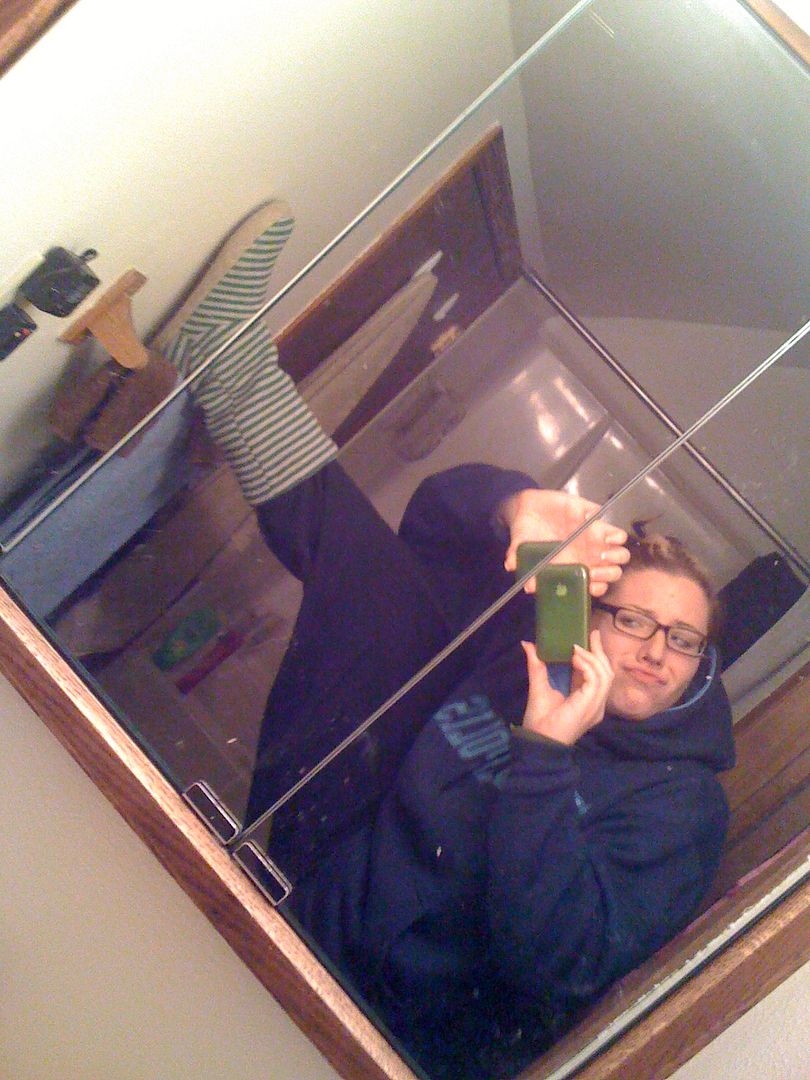 Maybe this is more appropriate:
And layered underneath the booties, the most awesome socks my Mom got me for Christmas. She's the best, and I can always count on adorable, cute, cheesy, kick butt socks from her all the time. And they're WARM! They have Cinderella on them, and they say, "I don't do windows.":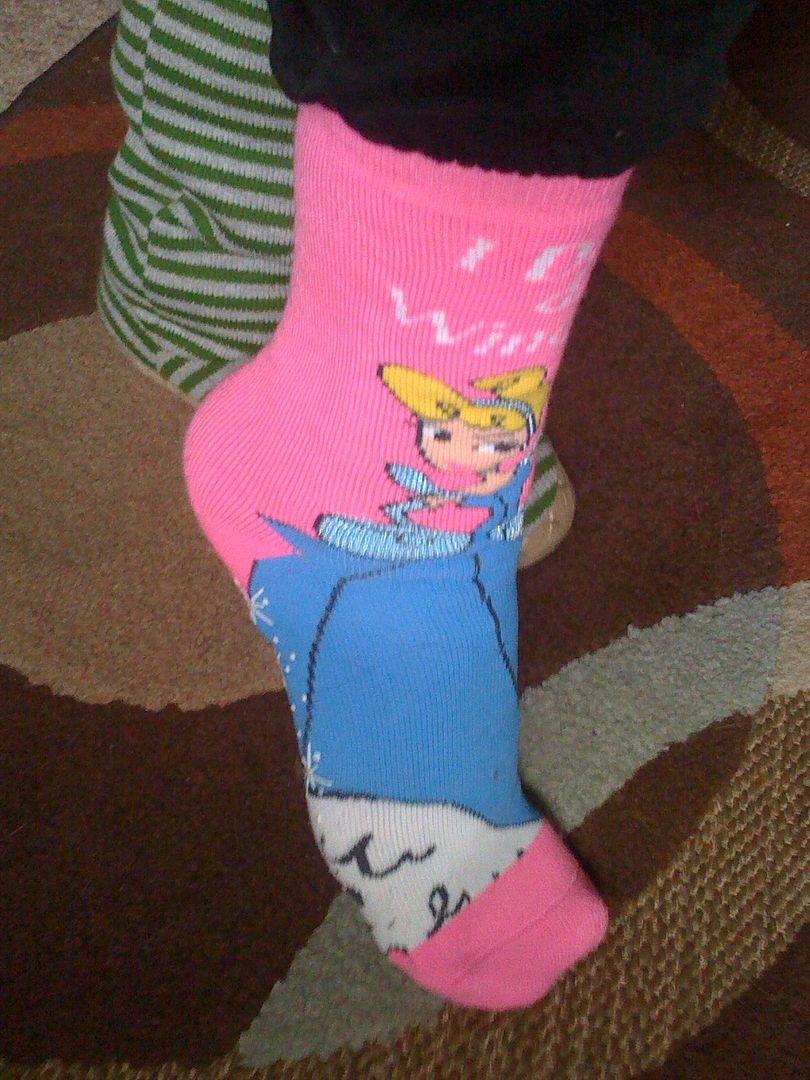 So anyway. Further updates on the 100 Day Challenge thing... I haven't had any pizza or Chinese food, but I guess I should have expanded that to include all forms of crap food. And I didn't eat a salad yesterday. Looks like I need to buckle down.
~J