A lot of people have asked about my weight loss... what I'm doing, eating, etc. I'll straight up tell you guys that I hate working out. I have a gym membership and I love
Zumba
, and I used to go twice a week. I will be full on honest and admit I haven't been to the gym in over six weeks. Part of that was because of a chest cold, and part of that was because I was traveling. But still, I haven't gone, and my $80/month membership is just laughing in my face because of it.
I tried the healthy balanced diet plus working out thing. I was losing around 1 pound a week or so. My diet was excellent, no more than 1600 calories a day, and I was working out for around an hour four times a week with aerobic exercise and weight training (I had a personal trainer.) I got sick and tired of putting in so much work and not seeing results.
See? This is me pretending to be all riled up about working out, but really my face just looks all pissed off:
I've tried lots of diets:
Cabbage soup (several times)
6 Week Body Makeover (really worked for my parents)
Atkins
Calorie restriction
Pineapple Diet (I have no idea, just heard pineapple burned calories and so I ate a ton of it.)
Raw Diet
Weight Watchers
I've always been too cheap to shell out cash for anything like Nutrisystem, Jenny Craig or Slimfast. I'm glad though... I probably wouldn't have had success with those either. I also haven't tried Kimkins or the Master Cleanse.
Sidenote: I've heard of some really crazy ones, and a reader once told me about the
"Diet Coke and crackers" diet.
I might be interested in that, 'cause I love both of those things. If you know what it is, I might be crazy enough to try it. Then I'll tell you guys how it goes. Seriously.
My recent weight loss (214-192 in 40 days) was pretty much strictly because of my eating plan. I did Zumba for the beginning of that timeframe, once or twice a week, but that was about it. My body reacts very specifically to what I eat. I lost 50 pounds the first go-round with Atkins. I didn't work out a single day at ALL, and I lost a load of weight: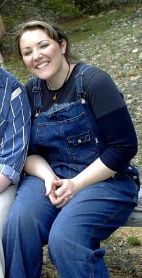 My body hates carbs. I'll clarify by saying I LOVE carbs... as Sean said tonight on The Biggest Loser, I want to take a cupcake and rub it all over my body. Not so much cupcakes, actually, but I'd take a bath in pasta, pour fries on my head and shove a baguette in my pants. I love bread, potatoes and pasta so much that I didn't even notice I was ballooning up to 225 pounds because I was too busy making moon eyes at the bread sticks at Olive Garden. That's part of why I was so successful with the Atkins diet.
What I do now includes only eating bread related carbs in the morning. I do NOT eat potatoes, bread or pasta anymore during the day or evening. That means I eat:
Breakfast:
Either a Nature's Valley granola bar, or a packet of oatmeal. With that I have a Dannon Light and Fit
(or cheapo equivalent, as long as it's 80 calories)
and coffee or Diet Coke.

Lunch:
I do some kind of protein
(usually a can of water packed tuna)
with lots of veggies mixed in. Through the day I drink water, coffee, Diet Coke depending on the day.
(Always around 50 oz water in the evenings faithfully.)
Dinner:
Meat and veggies (ie: grilled kabobs with veggies and meat or spaghetti squash with canned tomatoes and a Parmesan cheese) or I'll just do a huge salad. And salad means leafy greens (not iceberg) with veggies and sometimes chicken with a light vinaigrette dressing. It does NOT mean croutons, ranch and a crapton of cheese.
There ya have it... that's my spiffyriffic weight loss plan, and it steadily drops 2-3 pounds a week for me. I've been slacking the last 30 days or so but I'm back on with a dirty vengeance and already can feel a huge difference!
So! Don't forget to tell me what the Diet Coke and Crackers diet is. I love all things cracker. Please, share the info.
Also if you have a favorite diet, or you've tried a crazy one, I wanna hear about that too.
~Jenn