Allllllrighty then! I watched the season premier of The Biggest Loser, Season 8 and I'm here to share my impressions/feelings/thoughts/whatevers with you guys.
If any of you guys were crying a lot during the show, you're not alone. The story Abby shared I have heard something like four times since the teasers for the season began, and every time I hear it I break down crying. What she went through is one of my biggest fears in life, and it just kills me. I DO think that it'll give her a very strong advantage when it comes to the voting off process.
Tracey seems like a bitch from what they showed of her at the beginning of the show. I feel kind of bad saying that now that she has been in the hospital, but that was the impression I got from her initially.
I'm really happy to see Daniel back... he's accomplished so much and I think he's going to be a huge inspiration and motivator to the rest of the contestants.
About twelve minutes in to the show, I realized that I have a huge crush on Sean. He has a nice personality and all, [though he's a youth pastor (holy roller as
Carlos
put it) and I couldn't actually be into someone who worked in the church...] I'll have you know my thing for him is totally shallow. It's purely based on his eyes, hair, mouth. LOVE his hair. Love it. LOVE LOVE LOVE it (not in this picture below so much, but far more when it falls over his forehead.) And it's weird for me, I've never been attracted to bigger guys. My boyfriend weighs all of 150 pounds. But Sean? He's
adorable
. :)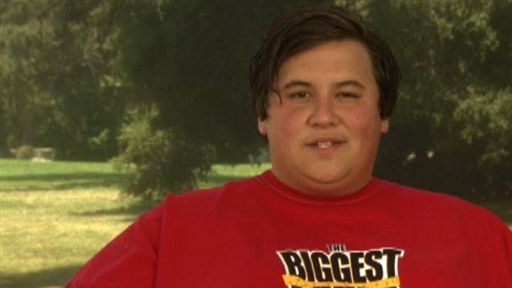 Now about the weigh-ins. I know The Biggest Loser has always had huge weight loss numbers each week, but I've don't remember drops like this... 18, 22,
28
pounds in a week? These weight loss numbers are INSANE!!! Is there even any way that's possible? Even WATER weight? Seriously, that's just mind boggling to me.
I'm curious though... what do you guys think abut the fact that the Black team was the team to be chosen/picked last (not counting the ones in the hospital) and that they fell below the yellow line? When she was voted off, Alexandra was gracious, which was nice. I think she was pissed as all hell. Have I mentioned she's
gorgeous
? And holy crap, has lost 60 pounds on her own. That's wonderful! And it really shows that the group made the right decision... she's done a good job.
I'm really looking forward to this season, you guys. I'm gonna love it.
Any other thoughts you all have?
~J