Yeah, we all knew it was coming. I have to write about this a little bit.
I was really annoyed when I first started seeing the commercials for this reality show. If you don't know what it is, FOX is doing a show similar to "The Bachelor", but instead they're featuring "The Fatchelor" along with 20 overweight women. As far as I was concerned, they might as well have called the show "More Cushion for the Pushin'."
I didn't remember the show was starting last night, so I'll be honest and say I didn't watch the whole thing. I caught it about 2/3 the way through. From what I've read in various recaps of the show, I am not really sure this show is a good thing.
My first issue comes with the fact that they're advertising this show as: "Finally! A show with REAL women." Okay. ALL women are "real" women. Skinny, medium, fat, hairy, blonde, tall, whatever. They're all real.
The second issue I have is the fact that every time they show an interview segment with one of the women, they post their HEIGHT AND WEIGHT. What the fuck? Seriously. WHY? We already know these are "BIG girls." That's the point of the show, right? So why the hell do you need to put their heights and weights out there for the entire country to see? So the rest of us fatties can look and compare ourselves? 'Cause that's exactly what I did. Want to see the woman whose stats are closest to mine?
Christina, 23, retail, 5'6, 206 lbs



Mandy, 25, fitness trainer, 5'7, 180 lbs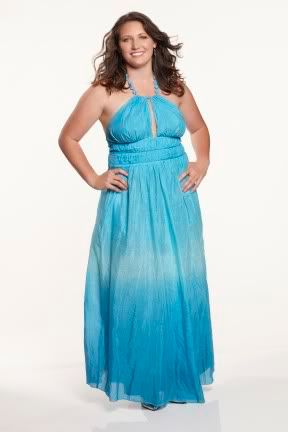 Now, I'm 5'6.5 and I weigh roughly 202 pounds. So, Christina is me a few pounds ago. Mandy is what I "should" look like when I lose another 20 pounds.
Apparently, I don't only compare myself to teeny tiny skinny girls on the reality shows, I compare myself to the big girls too. And even in more excruciating detail. Body composition plays a huge part. Firstly, I don't know if these women actually had a weigh in or if they're just posting the weights and heights these ladies wrote down on some application they filled out for the show, but I have a hard time believing some of the stats.
Add to all of this the fact that the "Fatchelor" seems creepy, particularly after reading about his manipulation of the women ALREADY, and the fact that a lot of the women's interviews have been edited together to show a ton of crying and sadness... I don't know if I'm gonna be able to keep watching it. Or maybe I will. It's like a freaking train wreck, and I don't know if I have the power to turn away. Or turn it off. Or change the channel.
Nevertheless, I'd love to know what you guys think if you caught the show.
~J