82 pounds.
To be "just right", within the "normal" range for my height (a BMI of 21), I would have to lose 82 pounds. That's right. I have to lose the equivalent of a 12 year old girl. Or six bowling balls. Or the world's largest ball of tape. Or the equivalent of FOUR automobile tires.
Or I could just chop both my legs off.
I currently weigh 208 (as of this morning.) Subtract 82 pounds from 208 pounds, and you get 126 pounds. (I should clarify that I'm 5'6".)
I haven't been 126 pounds since, like, 6th grade or something.
Did you know a newborn giraffe weighs on average 130 pounds? Yeah.
To be at the very HIGH end of the BMI scale for a "healthy" weight, 150 pounds would be a Body Mass Index of 24. To get there, I have to lose 58 pounds. At least that sounds better than 82 pounds.
I can't remember the last time I weighed 150. I don't even think I weighed that when my Mom said I was almost getting "too thin."
Probably around here. A photo with my Aunt -- Look at my FACE! My face looks SO good. Right now... I have chubby cheeks. UGH. I am SO sick of chubby cheeks, y'all.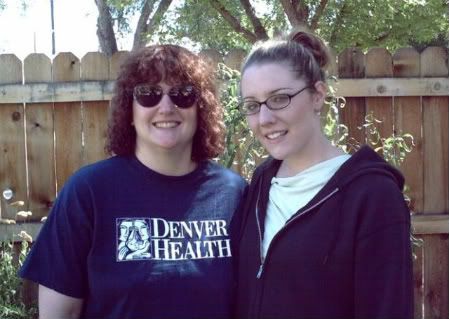 I don't really know what my weight was here, but it's what I can't wait to see again.
And holy crap, I forgot about this picture. LOOK at my ARMS! My face! Oh, my, gosh. This is my new desktop. I was a hottie. I miss myself.
~Jenn