I do apologize for having not done a TMI Thursday in a while. Unfortunately my life is devoid of really embarrassing things. But, I have something great to share with you today!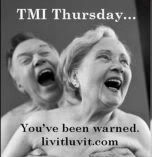 This week, as normal, Dan decided to try to get one of our cats, Mocha, to lay on me. Sometimes the cats need a little coaxing to cuddle, and though I normally don't care, Dan will go nuts trying to get them to lay down on my lap. It gets to the point that the cats usually end up fighting him, and scratching me, when I was only minding my own damn business in the first place.
Well last night, Dan got Mocha to come lay on my lap while I was laying on the couch. I mainly think it was because I was covered up with this really super soft blanket that the cats love. She didn't stay put for very long, and Dan tried to grab her but she pushed away from him with her back side. Dan scooted closer to me and I noticed a smell. Not just any smell, but the smell of POOP. I looked at him and asked, "What is that smell!?" He said, "What smell?" I said, "I swear, Mocha just got poop on your arm."
He put his forearm up to my face and told me to check. Now, normally, I would NOT oblige this request, but Dan has a sort of... impaired sense of smell. So, it was up to me. So, I sniffed it, and yep, it smelled distinctly and grossly like cat ass.
Dan got up from the couch and said, "Dammit, Mocha!" It was nasty, but I was laughing at him.
AND... it doesn't end there. Before going to wash his arm off, Dan went over to where Mocha was laying on the couch next to me. He promptly pulled down his pants and boxers and rubbed his bare ass on her. For some reason, she didn't move, but just looked really confused. He rubbed his ass cheeks on her and said, "Take that! That's what you get! Put poop on me? TAKE THAT!"
I was laughing so hard, you guys. It almost makes it bearable that the soft blanket also smells like cat ass. I love Dan. And it's only appropriate I share this today because it's his birthday! :)
~ Jenn