Okay, people. I have a crazy awesome bunch of news to share with you and a giveaway!
Progresso got in touch with me and sent me a killer pack of awesomeness in celebration of their Souper You debut! I received fifteen cans of their light and 100 calorie soups, a calorie counting jump rope and a mug.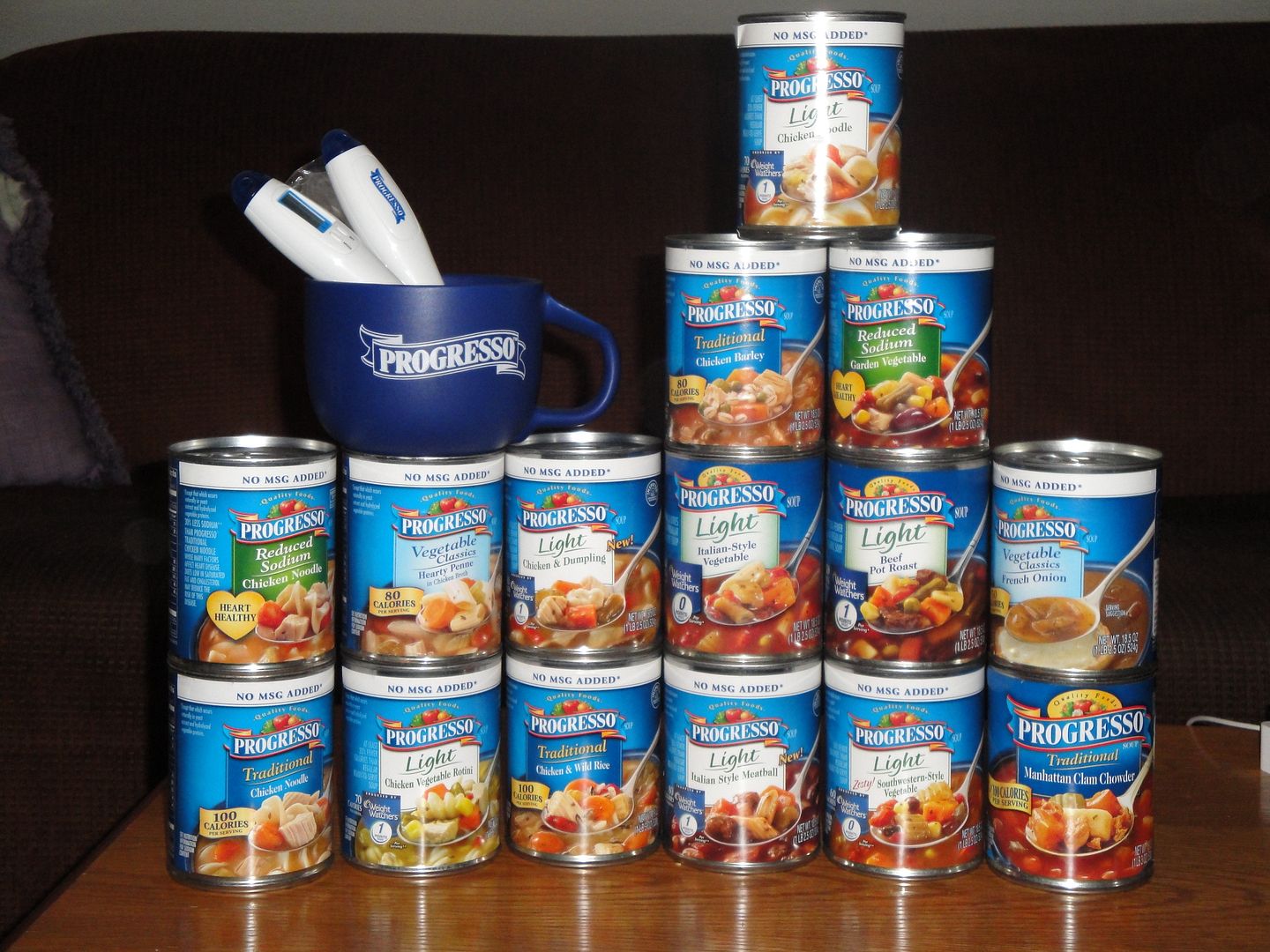 Dan and I tried out two soups last night:
Light Chicken & Dumpling and Light Italian Style Meatball. Both are 1 point (for you weight watchers,) per serving. That's 80 calories per cup, two servings per can. We both ate the whole can. The chicken and dumpling was pretty good - I only had two bites. The Italian Style Meatball rocked. Little bits of pasta and I'm telling you, the meatballs were really delicious. I wasn't sure how I'd like them, but they were great.
Dan and I have been huge fans of Progresso soup for a long time, so this was really awesome. The variety in the soups they sent just blew my mind. I have three varieties of Chicken Noodle soup (my favorite) and they even sent some Onion soup! Who knew? So I'll be doing a few reviews as I come across soups I really like or ones that aren't so great tasting. I do know that low cal soup is one of my favorite options when I'm watching calories, and especially when it's cold outside.
So. I want to tell you guys about the contest they're doing!
From January 4 through March 15th, you can visit
www.Progresso.com/SouperYou
to enter the Progresso "Souper You Debut" contest for the chance to win a full makeover in New York City.
Three grand prize winners will be awarded a trip for two to New York City from May 21st-23rd. The prize includes roundtrip airfare, a two-night stay in a NYC hotel, a full makeover, a $1,000 wardrobe shopping spree and personal consultation at a New York department store.
To enter, you'll need to do the following:
·
Submit your essay (200 characters or less) telling Progresso why you love Progresso Light or 100 Calorie Soups and why you would like a makeover
·
In addition, please submit a photo of yourself that visually reinforces the theme of your essay
Once you enter, you'll have the chance for your photo and/or an excerpt from your essay to appear on
www.Progresso.com/SouperYou
, so be sure to check back frequently! Once the 10 finalists are announced, you can visit
www.Progresso.com/SouperYou
from March 29 through April 12 to vote for your favorite.
In addition, throughout the duration of the contest you can visit
www.Progresso.com/SouperYou
to download a coupon for $1 off any three varieties of Progresso Soup!
Okay, so now for the giveaway!

Progresso has provided me with a sweet gift pack to give away to one of you guys! It has the mug, the calorie counting jump rope, and two cans of Progresso Soup!!!
So. Enter here for your chance at the gift pack! :) The winner will be chosen February 7th! :)