It's been a long time, but... I had an "episode" this week, and I HAD to share it with you guys. So, here it goes.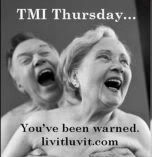 Monday I ran a few errands. Starbucks, grocery store, bank, etc. I decided to do a bit of driving around to look at a couple of places I would consider for a future studio, blah blah blah, and I headed back to the other side of town to hit the post office before a consult I had. As I was about five minutes from the Post Office, I started to get... that feeling.
You know. The rumbly, tumbly, farty feeling in your stomach. The one that makes you squinch your face in confusion. The one that makes you tuck your gut and clench your butt. The one that you hope will pass. The one that makes you think, "What the hell did I eat?" I shifted in my seat and made an uncomfortable pout, and after a few blocks, realized that the feeling wasn't going away. Alas... it was not a mere gas bubble.
It hit me that I had to, HAD to find a bathroom, or I'd shart myself.
Where I was driving, there were two options: Walgreens, or McDonalds. I knew that the bathroom all the way at the back of the Walgreens would likely be too far. I couldn't risk it.
And here's the problem: I HATE McDonalds. After Supersize Me and McLibel, I'm disgusted by the company. I loathe everything about them, their food, their ethics, the way they treat their employees, the garbage they market to children and the suppliers of their meat. (Another story for another day.)
I haven't stepped foot inside a McDonalds in over a year and a half. The other problem is that I feel guilty using the bathroom somewhere and not being a "customer." Usually if I stop on a road trip at a gas station or restaurant, I buy something, at least a Diet Coke or a pack of gum or something. But I definitely wasn't going to do that there. And so, suddenly, I was forced with that grand daddy question: "Would you rather?" You know. Would you rather immerse your naked body in a bathtub of cockroaches or dive naked head first into a pool of tobacco spit? Would you rather chew a piece of toenail off of a dirty man's foot, or thoroughly lick his un-showered armpit?
So, it was: Would you rather go into McDonalds, or shit your pants?
You guys, I
marched
waddled my clenched ass right into that McDonalds. And it was beautiful. Well, it wasn't beautiful. But I felt a whole hell of a lot better. And I left without buying anything. Now I can say that I don't give McDonald's my money. I only give them my crap when I really, really can't hold it.
~J